Bolingbrook, county cops cracking down on 95th Street speeders
9/4/2015, 9:58 a.m.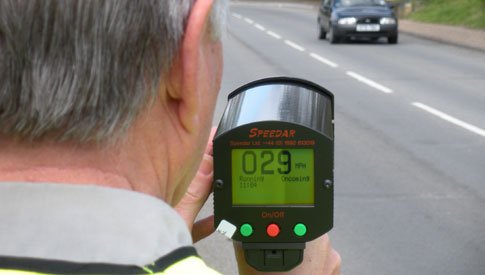 The Bolingbrook Police Department provided this news release:
The Bolingbrook Police Department, Naperville Police Department and Will County Sheriff's Office have increased traffic enforcement along 95th Street extension between Boughton Road and Naperville-Plainfield Road.

The posted speed limit on 95th Street is 40 mph in either direction for this residential neighborhood. Several residents have voiced concern about excessive speed on this stretch of the roadway. The aforementioned agencies are closely monitoring this area to reduce violations, get motorists to slow down and comply with the law.
The Bolingbrook Police Department has issued 123 traffic tickets over the past six months on the stretch of 95th Street, just North of Boughton Road.

Bolingbrook Public Safety Director Tom Ross has stated, "Excessive speed on the new bridge and roadway is a top enforcement priority." Will County Board members Suzanne Hart and Don Moran have worked hard on this issue with all three law enforcement agencies.

Over the Labor Day weekend, the Bolingbrook Police Department will have an increased presence in the area. Officers will ticket motorists who violate traffic laws, paying special attention to motorists speeding through the residential area and seatbelt violators.

"The Naperville Police Department would like to warn the public that excessive speed is a leading cause for vehicle crashes," said Cmd. Jason Arres of the Naperville Police Department.

"To this point in 2015, the department has investigated over 600 crashes throughout the city where speed was a contributing factor to the accident," Arres said.
This number constitutes about 46 percent of the crashes investigated.

"The safety of motorists in our community has and always will be a top priority," Naperville Police Chief Robert Marshall said. "We will continue to enforce the speed laws in this area and throughout the city, to ensure our streets are safe."
Speeding between 26 and 35 mph over the posted limit is a Class B misdemeanor, which can result in a fine of up to $1,500 as well as a possible jail sentence of up to six months. Violators whose speed exceeds more than 35 mph over the limit can face a fine of up to $2,500 and a possible jail sentence up to a year.
"The Will County Sheriff's Office has written 10 speeding citations from May thru Sept 1 on this roadway," said Kathy Hoffmeyer of the Will County Sheriff's Office.

"We received a traffic complaint yesterday from Will County Board member Beth Rice. The complaint states that weekdays from 6 p.m. to 10 p.m. is the time frame that concerns her."

The county will be doing extra patrols during this time frame on this roadway, she said.