Four USF alums to be honored for achievements
9/15/2015, 2:54 p.m.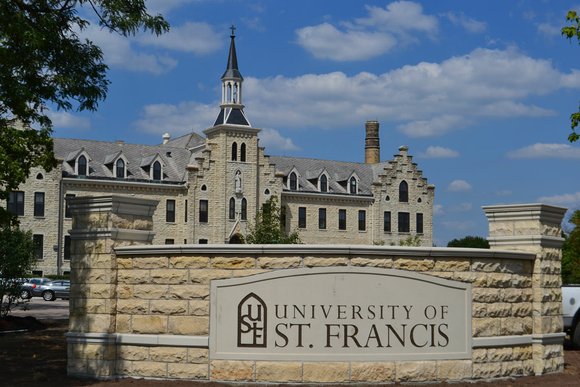 The University of St. Francis in Joliet provided this news release:
On Sept. 20, the University of St. Francis in Joliet will honor four talented alumni for their professional achievements.
Nominations were received from family members, coworkers, fellow alumni and others who could testify to the nominee's achievements. The recipients were selected by the association's executive board of directors, based on outstanding professional and personal successes as well as involvement in civic, cultural or charitable activities.
The most prestigious award, the Presidential Alumna of the Year, is awarded by the university president. In addition, one alum from each of the university's four colleges is honored each year, highlighting the diverse disciplines of a comprehensive university.
2015 Presidential Award: Sisters of St. Francis of Mary Immaculate
Sisters of St. Francis of Mary Immaculate Joliet Franciscans have lived the challenge and dream given to St. Francis of Assisi by Jesus, "Rebuild my Church," since their founding in Joliet in 1865 by Mother Alfred Moes.
During the young Congregation's first 11 growth-filled years, Sisters were sent to 36 different missions in Illinois, Missouri, Tennessee, Wisconsin and Ohio. The Sisters taught children in parish schools and played integral parts in the parish life of the Catholic Church as it grew strong roots in America.

At home in Joliet, these first Illinois Franciscans built a motherhouse, took in orphans and boarding students, staffed parish schools, and welcomed new members into their novitiate. They used precious resources to establish a variety of ministries and built a number of Catholic institutions that continue to serve the people of Joliet.

From the earliest days, the Sisters studied and mastered every academic area in order to provide a well-rounded education through their schools. In 1920, they founded the University of St. Francis, inspired to provide an excellent education for students in the Catholic, Franciscan tradition.

Through the years, the Joliet Franciscans listened to a call that led them in 1963 to Brazil, where they soon established several missions and a novitiate, welcoming Brazilian women to join their life and work. The Brazilian community continues to flourish.


2015 College of Arts & Sciences Alumni Award: Kasia Wereszczynska '06 (Chicago)
Kasia Wereszczynska is a Crisis Worker at Ada S. McKinley Community Services in Chicago. She earned a Bachelor of Science in Psychology from the University of St. Francis in 2006 and a Master's degree in Community Counseling from the Illinois School of Psychology 2008. Originally from Poland, she has a strong appreciation for different cultures.
Wereszczynska has provided clinical mental health counseling and crisis intervention to a culturally diverse population serving the South Side of Chicago and the North Shore area. She has a history of working in various settings including the mental health court system within the Cook County jail, hospital emergency room, community mental health agencies, and both inpatient and outpatient psychiatric hospital settings.
Wereszczynska is the past president for the Chicago Counseling Association, has served on the NAMI-Metro Sub Board and volunteers with the Sheliah Doyle Foundation. She is the founder of In Her Shoes Foundation and cofounder of Counseling Speaks. As part of her self-care, she enjoys horseback riding, swimming and practicing yoga.