Four USF alums to be honored for achievements
9/15/2015, 2:54 p.m.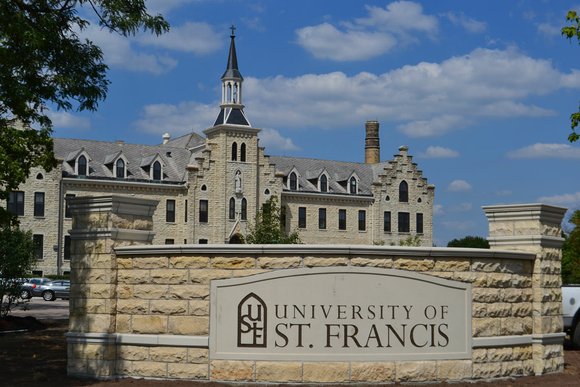 2015 College of Business & Health Administration Alumni Award: Laura Messineo '11, '15 (Orland Park)
Laura Messineo serves as the System Manager TeleHealth Operations at Presence Health. She earned a dynamic nursing a Bachelor of Science in Health Care Leadership from the University of St. Francis in 2011 as well as a Master of Science in Health Administration in 2015.
Messineo speaks nationally on a variety of topics and sits on various professional boards. She is a member of the American Association of Critical Care Nurses (AACN), Society of Critical Care Medicine (SCCM), the American Telemedicine Association (ATA), and sits on various professional Advisory Boards. Laura is passionate about raising money and community awareness of sepsis. In 2014, she spearheaded the first Illinois Sepsis Challenge 5K raising over $27,000 for the Sepsis Alliance. She is actively championing the State of Illinois to pass sepsis regulations.
A resident of Orland Park, Messineo has been married to her husband Steve, for 20 years and is the proud mom of Nicholas, Vince and Andrew. In her free time, Laura can be found cheering her boys on during their soccer, baseball and football games.
2015 College of Education Alumni Award: Daniel Markun '13 (Joliet)
Daniel Markun earned his Bachelor's degree in Biology from Loyola University in Chicago as well as a Master of Science with a concentration in Secondary Education. Dan began his teaching career with Plainfield Schools, working at both their Turnabout Program and Heritage Grove Middle School. He then went on to continue his career within the Joliet Township School District as a teacher, science content specialist and instructional coach.
Markun obtained a Master of Science in Educational Leadership from the University of St. Francis in 2013. He is currently the Academy Coordinator of the Health and Medicine and Human Services Academies at Joliet West High School, working to create career connections and community service opportunities for the students within his academies. Markun is also a member of the USF MERIT Executive Board and the High School/Community College Action Council for MERIT.

Markun is a lifelong Joliet resident and the ninth of eleven children. He has been married to his wife, Katie (Juricic), for the past 10 years and together they have three rambunctious boys; Danny, Andrew and Nathan. As alumni, Markun, his wife, mother and mother-in-law, several brothers, sisters and in-laws continue to share a rich tradition at the University of St. Francis and College of St. Francis.

2015 Leach College of Nursing Alumni Award: Dr. Mary (Lauric) Petrella '78 (Minooka)
Dr. Mary Therese Lauric Petrella did her basic nursing training at St. Joseph School of Nursing and graduated with a diploma in Nursing in 1978. She achieved a Bachelor of Science in Nursing from University of Illinois Medical Center Chicago in 1982, a Master of Science in Nursing from Rush University Chicago in 1986 and her Doctoral degree in Community Health Nursing, Family Nurse Practitioner Program in 1997.
Lauric Petrella is a Family Nurse Practitioner at Hines Veterans Hospital's Joliet Community Based Outreach Clinic. She provides primary care to veteran patients in an ambulatory care setting. In addition, Mary works for Walgreens Healthcare Clinic, providing treatment for minor acute care issues and illnesses as well as school and work physicals and immunizations.
Lauric Petrella married Bradley, a double alumnus from USF, in 1979. They have two children, Laurica'07 and Philip , and one grandchild, Antolina Francesca.