Senator Bertino-Tarrant holding Shorewood town hall meeting
4/18/2016, 10:30 a.m.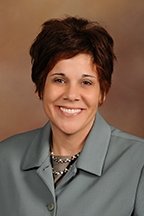 State Sen. Jennifer Bertino-Tarrant (D-Shorewood) will hold a town hall meeting on Wednesday, April 27. The meeting will be held from 6:30 to 7:30 p.m. at Shorewood-Troy Public Library, 650 Deerwood Drive, Shorewood.
"I'm looking forward to having an opportunity to talk to community members about what I'm working on in Springfield and receiving feedback regarding the state budget and other issues," Bertino-Tarrant said.
During the town hall, the senator will answer questions from attendees regarding state and local matters.
The town hall meeting is open to the public. Anyone with questions or concerns is welcome to join Bertino-Tarrant for a candid conversation about state and local government issues.
For more information or to submit questions ahead of time, please contact Bertino-Tarrant's district office at (815) 254-4211 or email bertinotarrant49@att.net.