2016 Hyundai Sonata Hybrid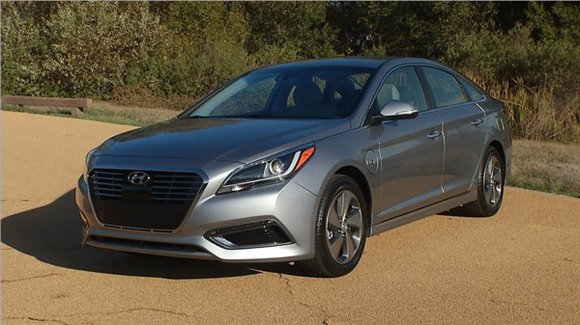 Last spring Hyundai introduced the second generation of its Sonata Hybrid. The sedan had different wheels and altered front and rear fascia that distinguished it from other Sonata models. The automaker said the alterations helped with aerodynamics and that undoubtedly aided fuel efficiency.
The 2016 Hyundai Sonata Hybrid had an EPA rating of 39 mpg in the city, 43 mpg on the highway and 41 mpg combined. That fuel economy is aided by a larger electric motor, 38 kW, on the new model. The new Sonata Hybrid also had a new 2.0 liter four cylinder engine that was mated to a six-speed automatic transmission.
The engine made 154 horsepower and 140 pound-feet of torque. The electric motor made 51 horsepower and 151 pound-feet of torque. The net horsepower was 193. In the real world, that meant when we pressed on the gas pedal of the test car, there was some spunk under the hood. Our 2016 Sonata Hybrid could move swiftly when needed.
Another upgrade was made to the transmission. The 2016 Hyundai Sonata Hybrid can operate solely on electric power at speeds up to 75 mph by decoupling the gasoline engine from the rest of the drivetrain. We think this just might be a gateway to even better fuel efficiency for all Hyundai hybrids.
In addition to the fascia change, Hyundai designers gave the Sonata Hybrid a larger grille, new front and rear bumpers, front fenders and new rear lights. There was also new chrome side sill molding and of course hybrid badging along with the new eco-spoke alloy wheel design. It was very stylish sedan.
Inside, as will all hybrids, the 2016 Hyundai Sonata had a unique instrument cluster with a 4.2-inch color LCD multi-purpose display that provided additional information about the hybrid system's operation such as when the regenerative brakes were charging the battery or when the car was running in eco mode.
The Sonata Hybrid was comfortable, quiet and the suspension smoothed out the pavement. Both steering and braking were good. There was decent headroom, especially in the rear, despite the panoramic roof.
The midsize sedan had a smart trunk, a smart key and smart cruise control featuring full stop capability. There were rear window shades, heated and cooled front seats as well as a heated steering wheel. Both front seats were four-way power.
Our test car was equipped with the 'Ultimate Package." It included lane departure warning, forward collision warning, automatic high beams, and rear parking assistance, a navigation system, premium audio system, satellite radio, LED interior lights and a high gloss window surround. There were almost $5,000 worth of options.
Still, the 2016 Hyundai Sonata Hybrid cost what we thought was a reasonable $35,765.
Frank S. Washington is editor of AboutThatCar.com.