Romeoville state of the village: new car dealership, beer and bacon fest coming in 2016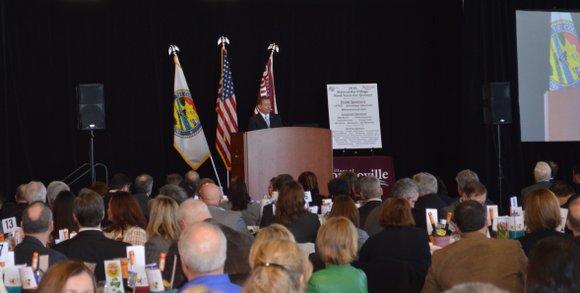 During his state of the village address on Thursday, Romeoville Mayor John Noak, announced that Thomas Toyota will build a new state of the art 40,000 square foot dealership there.
The announcement is good news even if it didn't elicit the biggest reaction from the audience that had gathered at the village's athletic and events center to hear Noak's address.
That reaction came early in the presentation when Noak, now in his eighth year as mayor, announced that the events center would host the first ever Romeoville Beer and Bacon Fest on April 2.
"How has it taken this long to bring these two things together in one event," said Noak as the audience of local elected officials and business leaders reacted to the news with excited chatter.
Noak's state of the village highlighted Romeoville's continued forward momentum with its commercial, retail, and residential developments as well as its continued infrastructure work.
Noak noted that that over 500,000 people visited Romeoville's athletic and events center in 2015. The cornerstone of its east side/Route 53 redevelopment plan, the events center has been successful in attracting other development to the 10 acre campus including a new Franconi's Grocery Store and Fat Ricky's restaurant that will break ground this year just to the east. Another 9,000 square foot retail outlot was also recently approved and is set to begin construction in the spring.
The village will see new homes start construction in the Renwick Place Subdivision in 2016 and will see the opening of the Springs at Weber apartment complex which will include 292 upscale units which are set to open in April.
"Good development is built on a good comprehensive plan," said Noak noting that the village will continue to invest in infrastructure projects which include a new series of bike paths, an extension of Pinnacle Drive that will route truck traffic away from busy intersections, as well as long term plans for improvements at I-55 and Weber Road and a new interchange at I-55 and Airport Road.
The village will also move forward with plans for a Metra Station near 135th Street and New Avenue with a ground breaking planned for October said Noak. The station will fit in to a growing demand regionally for more mass transit options for commuters coming from the western suburbs of Will County.
The village also had a successful year on its industrial front with just over 2.5 million square feet of space leased in 2015 and a vacancy rate that moved from 8.6% in 2014 down to 3.7% in 2015.
All of that development has been good for the village's bottom line as its been able to shore up its finances, doubling its fund balance since 2008, bringing its fire pension fund to 100% and reducing the tax rate for property owners all while rebating just over $1 million dollars back to residents since 2010.
During his address the mayor also presented a lifetime achievement award to Brother James Gaffney, the soon to retire president of Lewis University.
"A true man of faith, a true visionary," said Noak of Gaffney's tenure with Lewis. "His list of accomplishments and honors is so long that we don't have time to list them all."
Jeff Rigoni, President of Rigoni Marble & Tile in Lockport, said that it was great to see the village working to expand its tax base.
"It's great to see new businesses," he said.
brock@thetimesweekly.com or on Twitter @BrockAStein