Bertino-Tarrant town hall meeting in Joliet
1/6/2016, 11:29 p.m.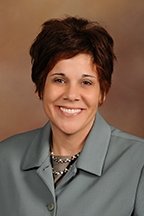 State Sen. Jennifer Bertino-Tarrant (D-Shorewood) will hold a town hall meeting on Thursday, Jan. 21. The meeting will be held from 6:30 to 7:30 p.m. at Joliet Public Library, Black Road Branch, 3395 Black Road.
"I want to start the new year by holding a town hall where I can have a conversation with people throughout my district about the state budget and other topics that are important to them," Bertino-Tarrant said.
During the town hall, the senator will answer questions from attendees regarding state and local issues.
The town hall meeting is open to the public. Anyone with questions or concerns is welcome to join Bertino-Tarrant for a candid conversation about state and local government issues.
For more information, or to submit questions ahead of time, please contact Bertino-Tarrant's district office at (815) 254-4211 or email bertinotarrant49@att.net.