Truck damages grave sites at national cemetery in Elwood
1/6/2016, 9:06 a.m. | Updated on 1/6/2016, 11:27 a.m.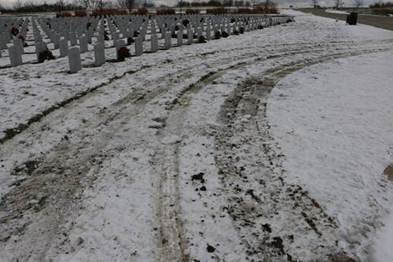 The following comes from a press release from Safe Roads Illinois:
Elwood police cited a truck driver who illegally entered the Abraham Lincoln National Cemetery and ran his overweight 18-wheel tractor trailer over the graves of three veterans.
Disobeying the "No Truck" signs clearly posted at the entrance to the national cemetery off of Route 53 on Monday afternoon, the trucker told police he was traveling to a warehouse located at the nearby intermodal facility.
The 43-year-old driver proceeded to roll the truck over the three graves, narrowly missing several headstones. He was stopped by cemetery staff who notified police.
"This is a travesty that demonstrates a complete lack of respect to our veterans when truckers ignore signs, illegally drive through a national veterans cemetery and run over this sacred burial ground," said Elwood Police Chief Fred Hayes. "The Abraham Lincoln National Cemetery prides itself on providing solemn, respectful burials for our beloved veterans who gave their time, effort, and, in some cases, their lives for our country. Maintaining respect for our honored veterans is of the utmost importance and in return for their sacrifices, they - at the very least--deserve an undisturbed resting place."
Police issued three citations to the driver, who listed his residence in Chicago. He was cited with disobeying a 5-ton weight limit sign, operating an over length truck and spilling debris on the roadway.
Staff was waiting for weather conditions to improve to determine the extent of the damage and if there was any danger of the burial sites collapsing.
The truck traffic stems from the intermodal facilities operated by CenterPoint Properties. More than 8,000 heavy trucks a day cross the tracks and nearly one million containers are brought in and out of the nearby intermodal facility each year.
A group of concerned Will County residents joined with the Village of Elwood in December to launch Safe Roads Illinois, citing 20 truck deaths in less than two years, 909 truck-related accidents in 2014, and 156 truck-related injuries.
Safe Roads Illinois, is a community-based coalition aimed at reducing the amount of heavy truck traffic in the area and making local roads safer.
The goal is to gain the attention of elected officials and encourage them to take action, especially with more developments planned in Will County in the near future. In less than two weeks, more than 1,000 Will County residents signed the petition.
For more information and to sign the petition, visit
www.SafeRoadsIllinois.comhttp://www.SafeRoadsIllinois.com.