Nearly 600 turn out for MLK day of service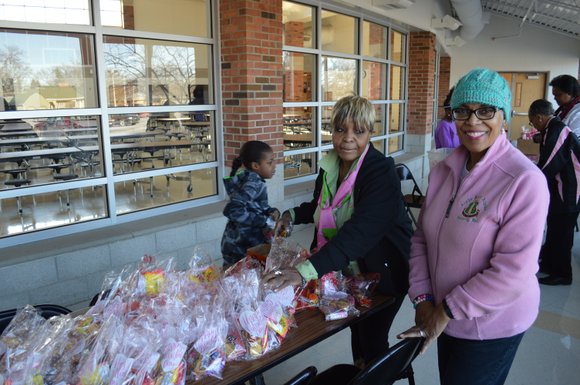 Despite temperatures that dipped in to the single digits, and the siren call of a warm bed and day off from school, nearly 600 volunteers reported for work at Joliet West High School on Monday.
The volunteers were there to take part in the Martin Luther King Jr. "Day on, not a day off" event in which students and residents of Joliet rolled up their sleeves to do something good for their community and honor the memory of the late civil rights leader.
Now in its tenth year, the local version of the national event started in 2006 with just a handful of volunteers and projects. That wasn't the case Monday when volunteers had their choice of 28 community service projects including those that involved packaging care packages for overseas troops, braving the arctic cold to do clean up projects at the Abraham Lincoln Cemetery in Elwood, and even helping to spruce up the high school.
According to the Reverend Genevieve Brown, the event has caught on with community members and has "really, really grown" over the years.
She said she's most impressed with the young people who show up on their day off from school to lend a hand to their community.
"That's impressive," said Brown, whose son R. Dale Evans has helped organize the event from the very beginning. She said the event also garners the support of local elected officials and even some congressional representatives who were at the event's early morning kick off breakfast.
Ericka Williams, of Catholic Charities, said that she's worked with the event for the past four years and she too has been impressed by the students who lend a hand, especially those that volunteered to work outside on such a frigid day.
"It's unbelievable the number of high school students who participate," said Williams. "They don't complain even when it's this cold."
Williams said that the event has gained more support throughout the past few years from community organizations looking to lend a hand as well with girl scout troops, church-based organizations, and others pitching in.
"It's outstanding, and there are more volunteers every year," she said.
Volunteers are also coming from outside of Joliet, where the core of the volunteers and projects still originate.
Carey Neal of Safenow, a New Lenox-based cleaning supply company, donated earth-friendly products for volunteers to use. He said that the volunteer event fits with his company's core mission of serving the community.
"It was a no brainer for us to get involved and be part of the larger community," said Neal.
Joliet West sophomore Freda Hogan was one of those students using some of those cleaning products to help spruce up the high school's media center where volunteers were shelving books, dusting, and getting things back in order.
"I love helping out in here," said Hogan who calls the library at the school her "second home."
With about 40,000 visits per year, the media center at the high school gets a lot of use said librarians Amy Walsh and Amy Lingafelter who said they were grateful for the extra help.
Joliet Township District 204 board of education Vice President Tracy Spesia along with board member Dave Skorupa were also lending a hand in the library as well.
Spesia, along with her daughter Tess, have participated for the past few years and think that the event is catching on with residents.
"It's a really good time," said Spesia.
And despite giving up part of a day off, that may be the lasting impact of the day in honor of Martin Luther King said Alpha Kappa Alpha president Bobbi Bates who along with other volunteers were busy putting together Valentine's Day care packages for the troops.
"It's just a good feeling," she said of the event.