Romeoville Community Events
7/18/2016, midnight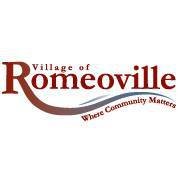 The Battle of the Badges Blood Drive
Saturday, July 16, 2016, 8 a.m. to 1 p.m.
Recreation Center, Drdak Room, 900 W. Romeo Road
Sponsored by CPAAR, Citizens Police Academy Alumni of Romeoville. Each donor can cast their vote for the Police or Fire Department to win the battle. Donors will receive a special edition Cuffs & Hoses t-shirt (while supplies last) and all donors will receive a coupon redeemable for a free pint of Baskin Robbins Ice Cream. Don't forget to eat a healthy meal and avoid energy drinks prior to donating. Photo ID required. To schedule your appointment, click
here.
Next Level 48 Football Camp Saturday, July 16, 2016, 9 a.m. to 1 p.m.
Romeoville High School, 100 N. Independence Blvd.
Next Level 48 (NL48) hosts fundamental football camps 100% facilitated and coached by ex & current NFL players. Each camper will receive a NL48 Camp t-shirt and will receive lunch following the camp. Water will be provided. $50 per camper. For more information and to register, click here. The mission of NL48 is to help reshape the focus of our youth, connecting our youth directly to the source of their inspiration to help them develop better on the field. Aside from our camps we focus solely on our kids mentoring. Teaching them about attitude adjusting, character building, discipline and core value structure to help them improve their everyday lives to make them better in competition. For more information, email Info@nextlevel48.com
Kiwanis Club of Bolingbrook/Romeoville
Wednesday, July 20, 2016, Noon
Bolingbrook Golf Club, 2001 Rodeo Dr, Bolingbrook, IL 60490
More MMA Classic - Live MMA & Muay Thai Fights
Friday, July 22, 2016, Doors open at 6:30 p.m.; Fights start at 7:30
Edward Hospital Athletic and Event Center, 55 Phelps
$35 General Seating; $50 VIP Seating. For more information, and for tickets, click here.
Romeoville Chamber of Commerce Annual Golf Outing
Monday July 25, 2016, 11 a.m. to 5 p.m.
Mistwood Golf Course, 1700 W. Renwick Rd.
The 2016 Annual Golf Outing is taking on a "hole" new look! 18 holes of golf will kick off with registration at 11:00 a.m. & shotgun start at 12:00 p.m. This is a great opportunity to get out of the office for a day of fun while networking! Great as a thank you to clients & staff. Individual Golfer and reception: $140; Foursome: $540; Reception only: $60. Register by clicking here. For more information, call the Chamber office or email info@romeovillechamber.org
Little Explorers Christian Montessori School Open House
Wednesday, July 27, 2016, 4-8 p.m.
175 High Point Drive, Romeoville
Open House is to showcase our new school's location at 175 High Point Drive on second floor of the Friendship Centre. Also, Now enrolling new families for 3-6 year olds for the 2016-17 school year at Little Explorers Christian Montessori School in the Highpoint Community. The education your child deserves at the price you can afford. Call now to discover your child's potential and to schedule a tour at (815) 886-4898 or check out our website by clicking here.
Heartland Blood Center Blood Mobile
EVERY Monday, 2:30 p.m. to 7 p.m.
Romeoville Recreation Center Parking Lot, 900 W. Romeo Rd.
Support your community by donating blood. Walk-ins welcome. Bring a friend. Opt into text messaging to receive information about upcoming blood drive events, promotions and blood inventory needs. Text "CHARLIE" to 444-999
The Romeoville American Legion Post 52 Queen of Hearts Weekly Raffle/Fundraiser
Every Wednesday night
Lost Acre Lounge 7 Alexander Cir., Romeoville
Tickets will be sold until 6:55 p.m. and the drawing will be held at 7:00 p.m. Tickets are $1 each or 6 for $5.
Romeoville Rotary Club Weekly Meetings
Wednesdays at Noon
At's A Nice Pizza, 334 N. Independence Blvd., Romeoville
New Members Welcome! Hope to see you there! For more information, contact Dawn Caldwell at dcaldwell@romeoville.org or call (815) 886-0279.
The Lockport Township Park District Classes & Trips
A variety of classes are offered for children, adults and seniors, including swimming, dance, child development and much more! Also check out the trip opportunities we offer. For more info. visit www.lockportpark.org or call (815) 838-3621, ext. 0.