LuxeHome at the Merchandise Mart to host Chicago Design Summit
7/29/2016, 3:47 p.m.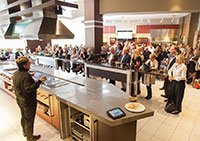 The Midwest's Largest Residential Design Summit: A one-day trade event featuring
presentations by industry experts, CEU seminars, new product debuts, open houses and the highly anticipated Chicago VIP Luxury Gala LuxeHome, the world's largest collection of premier boutiques for home building and renovation, located on the first floor of the iconic Merchandise Mart in downtown Chicago, will host the Chicago Design Summit, the Midwest's largest residential design summit, on Wednesday, September 14, 2016. The Chicago Design Summit will showcase 31 innovative programs, CEU seminars and events featuring industry luminaries, 11 strategic media partners and over a dozen well-respected editors, along with 8 open houses, 7 new showrooms and 29 new and featured product debuts. The not-to-be-missed, one-day event will welcome leading interior design, architecture and luxury custom home building professionals from across the Midwest. All programming, including CEU seminars, events and open houses, is complimentary exclusively for interior design, architecture and luxury home building professionals.
Program registration is now open. Seating is limited. RSVP now to secure a spot.
"We are thrilled to produce the Chicago Design Summit, as it draws a talented group
of design icons, industry leaders and trade professionals to see what's new at
LuxeHome, including new showrooms, cutting-edge products and the latest trends in the industry," said Katherine Flaherty, Vice President, Vornado | Merchandise Mart.
"The Chicago Design Summit is a one-of-a-kind event for the design industry,
offering the highest caliber of educational programming, presentations and industry
luminaries all in one historic location. We intend to provide a not-to-be-missed
experience for attendees – one that leaves them not only excited and inspired, but
also equipped with business insight on the constantly-evolving marketplace."
The conference will feature notable members of the design industry including kitchen and design icons, Christopher Peacock and Mick De Giulio; celebrated interior designer and TV personality, Kathryn Ireland; and A-List interior designers,
Alessandra Branca, Kara Mann and Martyn Lawrence Bullard.
Attendees can register to experience presentations and CEU-accredited seminars
presented by celebrated designers, media executives, editors, manufacturers and
associations. Highlights include Interior Design's Pam McNally and "5 Secrets to
Social Media Success" hosted in Poggenpohl; "The Iconic House, Two" moderated by
Julie Hacker, FAIA, Cohen & Hacker Architects in partnership with the AIA and
hosted in Pella Crafted Luxury, and Colormix 2017, hosted by Sherwin Williams.
In addition, 11 media partners from coast to coast will be on hand, presenting
another compelling reason to attend the Chicago Design Summit. Media offering their deep knowledge of the industry and years of expertise, include: Mayer Rus, West Coast Editor, Architectural Digest; Michela O'Connor Abrams, President, Dwell;
Arianne Nardo, Writer, Editor at Large; Barbara Friedman, Publisher, Elle Décor;
Karen Marx, Executive Director of Home Furnishings, Elle Décor; Sophie Donelson,
Editor in Chief, House Beautiful; Pamela Jaccarino, Editor in Chief, Luxe Interiors
Design; Susan Szenasy, Editor in Chief and Publisher, Metropolis; Andrea Mills,
Editor in Chief, Modern Luxury Interiors Chicago; Pam McNally, VP Digital, Interior
Design; Ann Maine, Editor in Chief, Traditional Home; Amy Elbert, Senior Editor,