The Best Philly Style Italian Hoagies
5/10/2016, 3:56 p.m.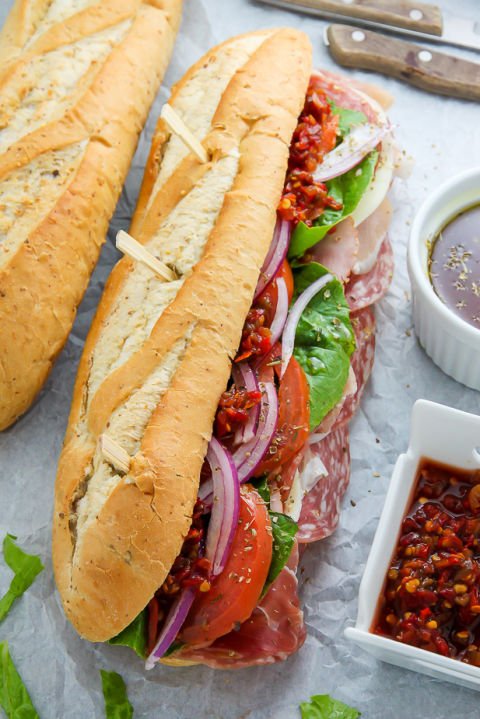 SERVINGS: 2-4
Ingredients
• 1 tablespoon red wine vinegar
• 1/2 tablespoon dried oregano
• 2 tablespoons olive oil
• 2 long Italian hoagie rolls
• 1/4 lb prosciutto
• 1/4 lb capicola
• 1/4 lb genoa salami
• 1/4 lb hot soprassata salami
• 1/4 lb sharp provolone cheese, thinly sliced
• 1 large tomato, thinly sliced
• 1 small onion, thinly sliced
• 1/4 cup iceberg or romaine lettuce, shredded
• 1/4 cup hot cherry pepper hoagie spread
Instructions
Slice the rolls lengthwise, cutting only half way through. Remove the thick, fluffy dough center of the bread and discard it. Set rolls aside.

In a small bowl whisk together the vinegar and oregano; slowly add in the oil, whisking as you pour to emulsify the mixture.

Drizzle a small amount of the oil/vinegar mixture on the rolls, then layer the cheese and meats.

Top with the tomatoes, onions, lettuce, then peppers. Drizzle with additional oil/vinegar, cut in half, and serve!