Chicago Film Festival: The Eagle Huntress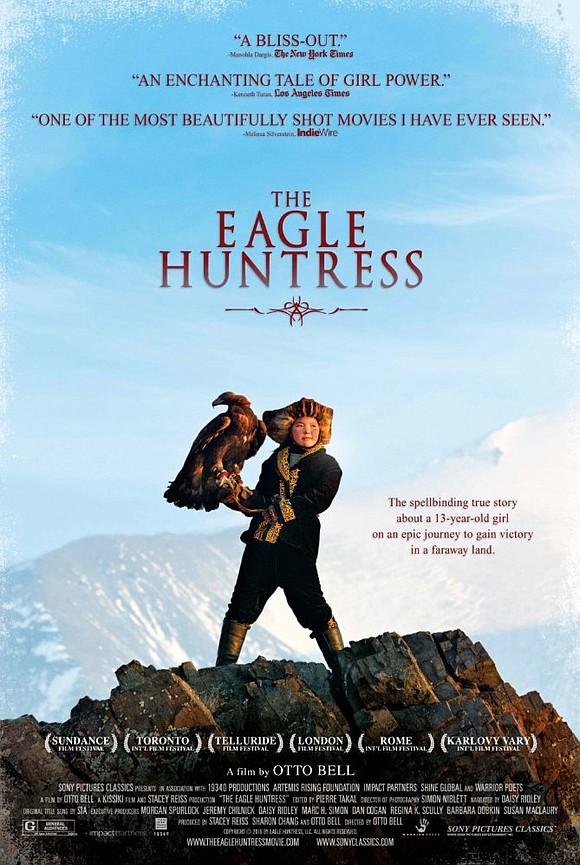 New York-based director and Kissaki Films founder Otto Bell and his brilliant cinematographer Simon Niblett have brought to the big screen an epic tale of courage and family unity in The Eable Huntress, now showing at the Chicago International Film Festival and set for limited national release this week.
The film follows the journey of 13 year old Kazakh girl, Aisholpan, who lives with her family in a remote village in the steppes of the Altai Mountains in northeastern Mongolia near the chinese border. Her strong desire is to become an Eagle Hunter, a tradition practiced for centuries among the Ksazakh people, but only by men. She must overcome the prejudice of her elders in order to enter the annual Eagle Festival, where the best Eagle Hunter for all of Mongolia is chosen each year.
Narrated by knockout British actress Daisy Ridley, who is best known for her central star turn in Star Wars: The Force Awakens, she is also Executive Producer. Director Otto Bel's Kissai Films recently received a News & Documentary Emmy nomination for their film "Escape Fire: The Fight to Rescue American Healthcare," which premiered at the 2012 Sundance Film Festival.Inspired by the photography of Asher Svidensky, whose photos viral earlier this year, the film follows her family and culture, set in the Altai Mountains of northwestern Mongolia, where the tradition of hunting with eagles is done only by males. Most of the action takes place at the annual Eagle Festival, where competitors travel from far and wide to compete. In some cases, winners have come from generations of Eagle Hunters, Aisholpan is the first female in history to enter the contest. The stakes are high and the tension mounts throughout the film. The Eagle Huntress is a must see film. It is not only ideal viewing for girls facing self-esteem issues, but for the whole family. It shows how important the support of family and community are in creating a positive self-image.