St. Francis named "Best in the Midwest" for 10th year
9/14/2016, 6 a.m.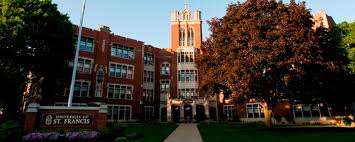 For the tenth consecutive year, The Princeton Review has named the University of St. Francis (USF) on its annual "Best in the Midwest" listing. USF is among 156 regional universities considered for this distinction.
Each year Princeton Review releases its "Best Colleges: Region by Region" edition, which identifies colleges as "regional bests" in four geographic areas: Northeast, Southeast, Midwest and West. Only 649 colleges received this distinction nationwide. These institutions were selected primarily for their excellent academic records and positive student feedback.
"Best in the Midwest" schools are located in 12 states: Iowa, Illinois, Indiana, Kansas, Michigan, Minnesota, Missouri, Nebraska, North Dakota, Ohio, South Dakota and Wisconsin. The 649 colleges named "regional best(s)" comprise 25 percent of the nation's 2,500 four-year colleges, according to The Princeton Review.
The Princeton Review editors make the selections based on data the company collects from its survey of administrators at several hundred colleges in each region, as well as its staff visits to schools over the years and the perspectives of college counselors and advisers, whose opinions the company solicits.
The selections also take into account what students at the schools report about their experiences via an in-depth survey. The Princeton Review asks students to rate their own schools on several issues, from the accessibility of their professors to the quality of the campus food and to answer questions about themselves, their fellow students and their campus lives.
Students polled by The Princeton Review commented that USF has "a very diverse student population" and "a great ethnic diversity." Ultimately, students agree that the University of St. Francis gives its students "a quality education in a safe and warm learning environment," and that it is an organization comprised of professors who treat each student "with individual respect" and who "really want to see you do well."
The University of St. Francis is proud to offer affordable, liberal arts programming rooted in the Catholic, Franciscan tradition. Degrees are available for traditional undergraduates in addition to adult degree completion programs, post master's certificates, graduate degrees and doctoral programs. The University of St. Francis strives for academic excellence in all programs in order to prepare men and women to contribute to the world through service and leadership.
The University of St. Francis, in Joliet, Ill., serves 3,700 students nationwide, offering undergraduate, graduate and doctoral programs in the arts and sciences, business, education, nursing and social work.