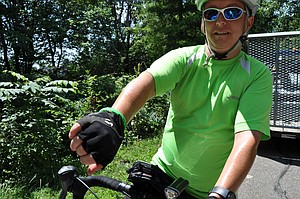 Thetimesweekly.com
The Forest Preserve District of Will County has launched a wristband campaign to help people remember the telephone number they should call if they need police assistance in a preserve or on a trail.
The colorful wristbands come in two sizes – small and large – and they are imprinted with the telephone number for the Will County Sheriff's Police dispatch center. The center provides dispatching services for the Forest Preserve District's Police Department.
If you are faced with an emergency where seconds count, call 911. But if there is a non-emergency that requires police assistance or you see something suspicious, call the dispatch number, 815-727-6191.
The wristband campaign is part of the Forest Preserve police department's "Eyes, Ears and Cell Phones" campaign, which provides advice about how to stay safe in the forest preserves by using your sight and hearing to be aware of your surroundings and a cell phone to call for assistance or report concerns.
Police Chief Tracy Chapman said she came up with the idea for wristbands while she was in a safety planning meeting where public outreach was being discussed.
"I looked down at my wristband that I wear every day for my best friend who passed away in 2011 from brain cancer, and it hit me: We should have wristbands with our dispatch phone number on it," Chapman said.
Forest Preserve staff hand out "Eyes, Ears and Cell Phones" brochures, which also include the dispatch number and other safety tips. And trail users are encouraged to program the number into their phones. But that might not always happen, Chapman said. So the wristbands will help guarantee that the number is always available and help is only a phone call away.
"The wristbands are not just for your wrist," Chapman added. "They also can be placed on a bike's handlebars, around water bottles or even around your cell phone while you are spending time in the preserves. Having the phone number right there and available will encourage people to call."
Chapman said people shouldn't wait to call with information or concerns.
"See it. Report it," she said. "Real time reporting will increase public safety and crime prevention."
Ralph Schultz, the Forest Preserve's chief operating officer, said the wristbands are informative and helpful, but they also serve another purpose.
"Along with providing a contact number for our police, the wristbands can serve as a subtle reminder to think about safety and to be aware of your surroundings," he said.
The free wristbands will be distributed by police during Trail Safety Days. Around 100 wristbands were distributed during a Trail Safety Day on Sunday, July 30, at Rock Run and Hadley Valley preserves and Veterans Memorial and Old Plank Road trails.
Wristbands also can be picked up at four Forest Preserve visitor centers: Isle a la Cache, 501 E. Romeo Road, Romeoville; Monee Reservoir, 27341 Ridgeland Ave, Monee; Plum Creek Nature Center, 27064 S. Dutton Road, Beecher; and Sugar Creek Administration Center, 17540 W. Laraway Road, Joliet.
For more information on the Forest Preserve District's police department and its "Eyes, Ears and Cell Phones," campaign, visit ReconnectWithNature.org.