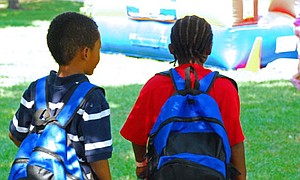 Following a meeting on public school funding, Tuesday evening in Joliet hosted by State Senator's Pat McGuire and Jennifer Bertino Tarrant, Joliet District 86 Superintendent Dr. Theresa Rouse, Ed. D, expressed hope that the state legislature can find a compromise or else finds the votes to override Gov. Bruce Rauner's recent veto of Senate Bill 1.
Rouse oversees the fourth largest elementary school district in the state with just over 67% of its budget coming from state funding. She said that without a fix, a full school year in District 86 looks to be in doubt.
"We can start school but we won't be able to continue at the end of December," she said.
Senate Bill 1 would have overhauled the state's school funding system according to a press release from the state senate.
Illinois Senate President John Cullerton said in the release that the "senate will return in session on Sunday to take action on education funding. This is a priority and has been worked on for the better part of four years."
"I remain optimistic that there is a path to a reasonable compromise on a fair school funding system that improves public education across all of Illinois."
"That has been our goal from day one."
"One way or another, we are going to get a fair funding system that improves education in all public schools in Illinois for the long term."