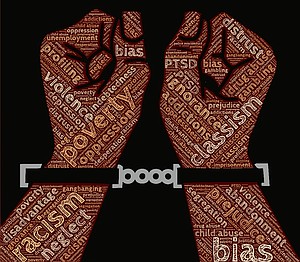 What do you do when you're totally stressed out? Many of us – far too many – use food to soothe ourselves. A relationship break-up? Time for Rocky Road ice cream. Financial pressure? Triple burgers and cheese fries make everything feel better for a few minutes.
What do you do when the stress is continual? When you can't escape your worry?
A recently released Duke University study revealed that teenagers stressed by exposure to bullying and violence do what we do: overeat.
Youth consume more fatty, salty, unhealthy foods and beverages on days they had to deal with violence, either as a victim or a witness, and suffered from fatigue due to poor sleep for several days after. More than 20 percent of U.S. adolescents are classified as obese. Obesity rates are higher among low-income children, and the rates are highest among Hispanic and African American children ages 12 to 19.
But it's not restricted to communities of color; it's a nationwide trend. According to the United Nations, the United States ranks 28th on global health goals, below many other wealthier nations, due to our high rates of death caused by violence, HIV, alcohol abuse, childhood obesity and suicide. The United States also lagged among other high-income countries on maternal and child mortality, reflecting large differences in the accessibility and quality of healthcare. (Iceland topped the rankings, followed by Singapore and Sweden.)
Many other factors play into youth obesity, of course: access to healthy food, family genetics, nutrition education, peer pressure and our overall "junk food" lifestyle. But for the first time, there is scientific research backing up the idea that exposure to violence – just seeing it, thinking about it, fearing it, or worrying about it -- affects our teens' physical health in the most basic ways. Children and youth exposed to constant stress are also more likely to experiment with drugs, engage in risky sexual behavior, and exhibit violent tendencies themselves.
In Lexington, Kentucky, at least one community is trying to tackle both problems – violence and teen obesity – at the same time. Food co-ops in low-income neighborhoods pool their money and buy fresh veggies from local farmers, giving families access to healthy food. The co-op itself provides a safe, community gathering place for young people who feel handcuffed by fear.
In my own backyard, I see the difference in behavior between kids who spend time in the garden and kids who don't. Youth who grow food – for themselves and their neighborhood – learn about more than plant life cycles and nutrition. They learn to work together cooperatively. They learn to disagree without name-calling, and how to resolve conflicts with their words instead of their fists. They learn to appreciate the value of being part of a project bigger than themselves.
That's how vegetables can help prevent violence, and its side effects of stress, obesity and fear.
Kay Bolden is an author, Times Weekly blogger, youth advocate, community activist and urban farmer on Joliet's southeast side. She'd love to hear your thoughts on sustainable living, economic justice, and how we can all live together on the only planet we've got. Follow her on Twitter @KayBolden or drop her a line at Kay@KayBolden.com.