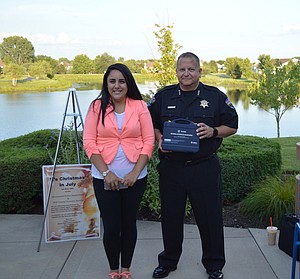 A lost dog wandering in the rain earlier this summer has inspired a Shorewood volunteer group to make a new equipment donation to the village's police department.
Happy Tails, a volunteer group that does fundraising for animal causes, held a Christmas in July fundraiser this summer after one of their members found a small dog wandering near River Road in June said member Carol Smith.
Smith said that the dog, which didn't have and ID tag, was taken to the Shorewood Police Station to see if it had a microchip. She found out, however, that the department doesn't have a reader.
"That's when we discovered the need," said Smith whose group is based in the Shorewood Glenn subdivision. Smith said that the police were able to re-unite the dog with its owners, despite discovering at a local veterinary office that it didn't have a microchip.
Smith said that the Happy Tails group formed in October of last year and since then has held a couple of fundraisers. So far the group has made two sizable monetary donations and "a car load" of cleaning supplies to the Will County Humane Society, 24109 Seil Rd. in Shorewood.
The members of the group presented the new microchip scanner to Shorewood Police Chief Aaron Klima at their August meeting along with more cleaning supplies and a monetary donation to the Humane Society.
Klima said that the new tool will help reunite stray pets with their owners more quickly now.
"When we take in strays we'll be able to scan them ourselves," he said, thanking the group for the donation.
"We'll put this to good use."
Klima announced that his department will also be adding a new member to their ranks this fall with a new K9 officer, their first since their last police dog retired in 2004.
Klima said that the new dog will be working the narcotics beat and that he and his handler will be travelling to Pennsylvania in October to begin training. Klima said that the $10,000 cost of the new K9 and the training is being paid for through Will County State's Attorney Jim Glasgow's office.
He said that the German Shorthair, who hasn't been named yet, will be "another tool" for officers to use.