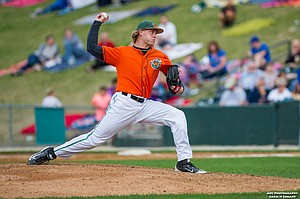 Joliet, IL - The Joliet Slammers shutout the Wild Things Saturday night 4-0 as they took the field in the rubber game Sunday afternoon. Shane Bryant pitched well for Joliet despite allowing a run to score on an errant pick off attempt in the 1st that put Joliet down 1-0.
Danny Zardon, who has had a great home stand, tied the ballgame with a single scoring David Gonzalez in the bottom of the 1st off Washington starting pitcher Trevor Bradley. Shane Bryant settled in nicely as his offense was bolstered by Danny Zardon who game the club the lead with a go-ahead single in the 3rd inning making it 2-1 Slammers.
For Washington, they struggled to muster any sort of offense until Kenny Peoples-Walls, who made his first start of the series, doubled home Hector Roa in the 6th inning. It continued to be the 'Danny Zardon Show' as Edwin Gomez doubled then Zardon lofted a bloop hit into shallow right field and Roa missed the cutoff man as the ball sailed into left field. This allowed Gomez to score easily and Zardon, with heads up base running, made it all the way home as he went it feet first and pumped his fists in excitement and laughter with Gomez.
The Slammers loaded the bases in the 6th inning against Davis Adkins followed by a bases loaded walk by Gomez. Jordan Wellander pitched 2 scoreless frames to hand the ball to Confessor Lara who pitched a quiet 9th inning for save number 16 to secure the 5-2 victory for Joliet.
Shane Bryant was the winning pitcher as Trevor Bradley got the loss.
Danny Zardon is our player of the game.
Tickets can be purchased online at jolietslammers.com or at the Box Office located at 1 Mayor Art Schultz Drive, Joliet, IL 60432. Call (815) 722-2287 with questions.