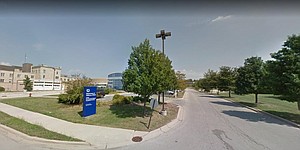 The Joliet City Council has tabled a vote to annex land owned by Silver Cross Hospital until later this month. It's the second time that the council has voted to postpone taking action on the plan after tabling the vote in November.
If approved, the approval will bring 8 parcels of land, 5.5 acres, into the city which city officials believe will help make the former hospital site more attractive for potential re-development projects.
City Manager David Hales said that city staff first identified the annexation proposal.
"One catalyst that brought this to the council was recommendation by staff," said Hales. City officials have also noted that water and sewer service for the entire site as well as the 8 new parcels would all be serviced by city water and sewer. The 5.5 acres area is currently located outside of the city and is served by the East Joliet Sanitary Sewer District. Roads are currently maintained by Joliet Township.
In a new development, city council member Jan Quillman said that she had received a verbal agreement from Silver Cross officials to donate some of the limestone from the site for use at the downtown library location "as part of their courtyard" and for other uses. Quillman said that the limestone donation would be added to the written agreement before the vote on December 19.
Ken Jaeger, a resident who lives near the annexation site, spoke against the plan during a public hearing at city hall in November and presented a petition signed by neighbors who oppose it.
Jaeger said the annexation would increase light pollution, destroy a natural woodlands area that acts as a barrier between the neighborhood and Route 6 and increase crime. He said that the annexation is a sign of poor planning on the part of the hospital administration.
"An entire neighborhood should not suffer because of incompetent planning of a few executives that serve at the hospital," he said.
A village memo outlining the plan emphasizes that there are no current plans for redevelopment of the former hospital site or the 8 parcels that would become part of the campus.

In October, the city approved a feasibility study for the creation of a tax increment funding (TIF) district the area around the hospital campus. Economic Development
The issue was originally tabled in November after City Council member Jan Quillman asked to look at whether the city can recoup some of $1.1 million spent to spruce up streets and lighting near the hospital in 2007, about 5 years before Silver Cross vacated the site on Eagle Street for a new location in New Lenox. Quillman said that about $366,000 was spent from District 4 neighborhood improvement funds for decorative lighting and about $809,000 for street upgrades.