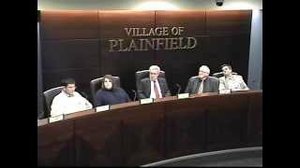 The Plainfield Village Board is taking steps to make sure residents will not see an increase on their 2017 property taxes.
The board Monday adopted an ordinance levying that maintains the 2016 overall levy rate of .4669. Based on preliminary equalized assessed valuation (EAV) estimates, the ordinance reflects a total property tax request of $6,349,600, according to Traci Pleckham, director of management services.
However, the actual dollar amount the village will receive is anticipated to be less. The levy will not be finalized until March of 2018.
The equalized assessed value, or EAV, is the result of applying the state equalization factor to the assessed value of a parcel of property. Tax bills are calculated by multiplying the EAV (after any deductions for homesteads) by the tax rate.
The Village of Plainfield's portion of the 2016 tax levy was 5.13 percent, or for every dollar paid in property taxes by village residents, 5.13 cents is paid to the Village of Plainfield. When a Plainfield resident opens up their tax bill the majority of the money is going toward Plainfield Community Consolidated School District 202. Other governmental bodies that serve Plainfield residents also get its share of the money from the tax bill, including Plainfield Fire Protection District and Plainfield Public Library District.
Additionally, the board eliminated five outstanding bond issues, which, according to Pleckham, total $4,843,350. If these resolutions were not approved, she said the Will County Clerk's Office would extend the property tax levies for each of the bond series.
"This additional extension would almost double the village portion of a resident's property tax bill," Pleckham said.