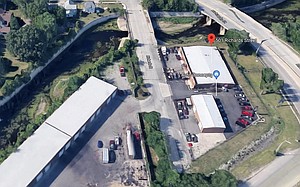 The City of Joliet will take a 60-day pause on a plan to vacate a portion of old Richards Street following a petition from two business owners impacted by the plan. After a vote to table, the city will revisit the proposal on February 6, 2018.
Andy Boyer, a representative for Auto Concepts at 501 S. Richards St. said that the street includes a bridge over Hickory Creek which serves as the only access point to that portion of the road.
"I don't think this has been completely thought through," said Boyer.
A city memo indicates that the owner of 515 S. Richards was notified when the property was developed in 2003 that the bridge would eventually be abandoned and that a new access point from the new portion of Richards St. would have to be obtained. The memo also indicates that due to deterioration of the bridge that the weight limit was reduced to 15 tons in 2009. The city petitioned IDOT for a new access point from the new portion of Richards Street which was denied. The site sits just to the north of I-80.
Only one of the properties impacted, 515 S. Richards, sits within the city limits. Tax records indicate that the property at 501 S. Richards St. is part of the East Joliet Fire Protection District.
"It is the determination of the City of Joliet Legal Department that the expenditure of slightly more than 2 million dollars in order to serve one property that is in the City does not serve the public interest," the memo reads.
A 2016 estimate for repairs pegs the cost at around $2.09 million, a number that Boyer called in to question due to it being submitted on lined notebook paper with no letter head or signature.
He also cited properties along Fifth St. that are held in a land trust as further muddying the vacation order.
"You're not going to have a valid vacation because the land trust is never going to accept the portion you're proposing being transferred," he said.
In addition, he also cited a lack of due diligence, hardship to city residents, and the arbitrariness of the plan that could lead to a court challenge.
"It's not in the public's interest to vacate the road," he said. "You still own the bridge."
Elizabeth Bacon, a representative for Zaffino Commercial Properties at 515 S. Richards, asked the council to table the approval for further review.
"We would like to see everybody take a deep breath and see if there is a way to make this work for the city of Joliet and our clients," she said noting a traffic study from 2012 that shows that about 175 vehicles per day cross the bridge.