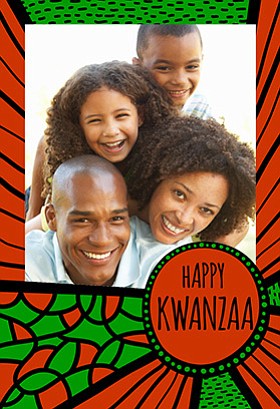 Habari Gani? What is the news? If your family is celebrating Kwanzaa at Warren-Sharpe Community Center, this is what you'll hear when you join the festivities. The children will ask you: Habari Gani? What is the news? You respond with one of the seven principles of the Nguzo Saba:
Umoja (Unity): To seek unity in the family, community, nation, and race.
Kujichagulia (Self-Determination): To define and name ourselves, as well as to create and speak for ourselves.
Ujima (Collective Work and Responsibility): To build and maintain our community together and to solve our problems together.
Ujamaa (Cooperative Economics): To build and maintain our own stores and businesses and to profit from them together.
Nia (Purpose): To make our collective vocation the building and developing of our community.
Kuumba (Creativity): To do always as much as we can to beautify our community, to support our artists, and to uplift our culture.
Imani (Faith): To believe in our people, our parents, our teachers, our leaders, and the righteousness and victory of our struggle.
Kwanzaa is a celebration of African and African-American families and traditions. Created by Dr. Maulana Karenga in 1966, Kwanzaa is a week-long celebration held in the United States and in other nations of the West African diaspora in the Americas. The celebration honors the African roots of African-American culture, and is observed from December 26 to January 1, culminating in a feast and small, educational gifts.
Kwanzaa has no religious affiliation, although most people who celebrate Kwanzaa also observe Christmas.
Warren-Sharpe has observed the holiday every year since 1972, when the late Mary Sharpe (for whom the Center is named) hosted the first Kwanzaa feast at what was then the Warren YMCA on Joliet's south side. The children learned and recited the seven principles, and how the strengths of African culture affect our communities today.
This tradition continues this year when Warren-Sharpe Community Center observes Kwanzaa on Monday, December 18, 2017, at 4:00pm. The celebration will include the candle lighting ceremony, a discussion of the Nguzo Saba, and a traditional Kwanzaa feast.
This is a free event, but registration is required. For more information, please call 815-722-2727.
Kay Bolden is an author, Times Weekly blogger, and travel writer. She'd love to hear your thoughts on sustainable living, and how we can all live together on the only planet we've got. Follow her on Twitter @KayBolden or drop her a line at Kay@KayBolden.com.