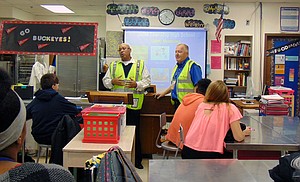 Young people are not as aware of everyday hazards as are older, more experienced adults. Each year in the United States, nearly 10,000 teens die of preventable injuries in. In addition, nearly half of a million are injured seriously enough to require emergency room treatment.
The importance of safety – and safe living – can never be overstated. Providing young people with a pathway to safety resources, such as those encompassed in a mentoring process, should be the goal of every community.
Recently, Joliet Township High School in Joliet, Illinois partnered with First Transit America to present a series of classroom safety workshops. Students were mentored on topics ranging from kitchen fires to proper lifting; from workplace fire evacuation to food safety.
During presentations by Mr. Rass Powell, Safety Director at First Transit and Mr. William Schenold, Transportation Driver, students viewed safety videos and participated in safety-related discussions. Several students recounted their own experiences of facing situations that could have resulted in catastrophic outcomes.
Ms. Rochelle Heavener, Culinary Arts Instructor at Joliet Central High School commented on the value of the presentations: "The students enjoyed the visit. I think it is important that they hear and see information in the classroom setting that is applicable to safety in the real world."
Other aspects of the visit included learning about 9-volt batteries in smoke and carbon monoxide detectors. While a 9-volt battery is pivotal to the operation of these life-saving devices, they can also ignite a fire in a kitchen 'junk' drawer if the battery makes contact with electrical conducting objects. Students were shown how to properly store and dispose of these batteries.
Joliet Township High School has developed a 'culture of safety' throughout it's campuses for students and staff alike. The mentoring process furthered the goal of 'zero' injuries. First Transit America is also steadfast in safety issues affecting it's employees. The company moto is: 'If you can't do it safely, don't do it.'
For more information on mentoring safety, visit the Safety Mentoring Network website: https://safetymentoring.net