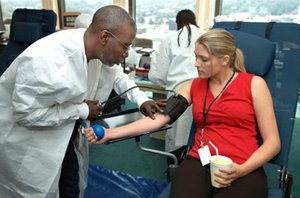 Will County State's Attorney James Glasgow will have the first Taylor Babec Community Blood Drive of 2018 hosted by his office in honor of the late Jim Stewart, a dedicated Heartland Blood Centers donor who led his Investigations Division for more than seven years.
The Taylor Babec Community Blood Drive will be held from 7:30 a.m. until 2 p.m. on Tuesday, January 16 at a new location in front of the Will County Children's Advocacy Center, 304 N. Scott Street, directly across the street from the Will County Office Building. Parking for the drive will be in the Will County Office parking lot. The Will County Children's Advocacy Center is partnering with State's Attorney Glasgow to host the drive.
Appointments to donate can be made by calling Jennifer Babec at (815) 325-4282 or by visiting Heartland Blood Centers online at www.heartlandbc.org. Walk-in donors also are welcome on the day of the blood drive. Donations take roughly 30 minutes. Heartland is the sole provider of blood products for Silver Cross Hospital and Presence Saint Joseph Medical Center.