Heritage Trail students run Mitten Tree campaign for homeless
Troy Heritage Trail School students and staff held a Mitten Tree campaign in December by bringing in new mittens, hats, gloves or scarves that they donated to Daybreak Shelter in Joliet. Here, Heritage Trail Assistant Principal Mark Leipart, with students Gavin McCollum, JaMarion Drew and Abby Molek in front of the Mitten Tree.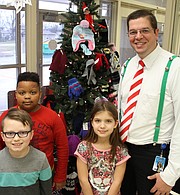 Shorewood 2nd graders learn about pet adoptions from humane society
After reading a story about giving, second grade students at Troy Shorewood Elementary School decided they wanted to do some giving, too. They chose as their recipient the Will County Shorewood Humane Society, and began collecting coins. Little by little, they amassed $145 for the no-kill shelter and gave representatives the check in Michelle McCabe's classroom in December.
In turn, Malorie Ernest and Liz Christensen from the humane society visited the second graders to thank them for the donation and to tell them about the dogs and cats that stay at the shelter and about what it takes to adopt and care for them. The students also learned what the animals there need, including volunteers and donations of food, litter, blankets, beds, office supplies, dollars and more. (More information can be obtained at www.willcountyhumane.com)
Two shelter residents, Elf, a miniature pinscher Chihuahua, and Scout, a beagle, also visited the students. Ernest said the shelter houses about 75 cats and 30 dogs at any given time.