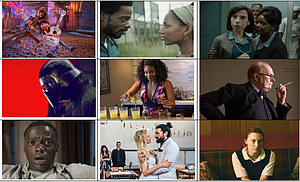 In the Fade () A mother (Diane Kruger) loses her child and husband in a bombing in Germany and she seeks justice and revenge. The sociopolitical aspects of the racist attack against her Kurdish-born husband are so topical it's as if the movie was ripped from a newspaper headline. Director Fatih Akin also wrote the screen adaptation of a novel by Hark Bohm. Riveting from beginning to end.
Lady Bird () A precocious high-school student, Christine (Saoirse Ronan, Brooklyn), goes by the name Lady Bird and is in a constant verbal battle with her pessimistic mother (Laurie Metcalf, TV's Roseanne). Teen angst colors her relationships with her first boyfriend (Lucas Hedges, Manchester by the Sea) and second lover (Timothée Chalamet, Call Me by Your Name) Hilarious. Heartwarming. Written and directed by actress Greta Gerwig (Jackie) and based on her life.
Stars Wars: The Last Jedi () Wow. This is the event movie of the year. So much action. So much haunting drama and raw emotion. And it doesn't just build to one climax. It crescendos up to climax, after climax, after climax... The mix of the old generation, with Princess Leia (Carrie Fisher) and Luke Skywalker (Mark Hamill), with the new warriors, like Rey (Daisy Ridley) and Finn (John Boyega), is seamless. The surprising plotlines by writer/director Rian Johnson and the astonishing art direction, production design, costumes and cinematography make this saga a fun experience with lots of eye candy.
Wonder Woman () Best comic book hero turned action film movie of the year. Director Patty Jenkins, with Gal Gadot as her muse elevates the legendary Amazon warrior way above the current tepid Batman (Ben Affleck) and Superman (Henry Cavill) to an upper stratosphere. Perfect blend of beauty and strength. Great special effects. Tight script by Allan Heinberg. Robin Wright and Chris Pine co-star.
Best Directors
Joe Wright — Darkest Hour
Dee Rees — Mudbound
Christopher Nolan — Dunkirk
Rian Johnson — Star Wars: The Last Jedi
Patty Jenkins — Wonder Woman
Best First Films
Get Out, Patti Cake$, Thank You for Your Service, Novitiate, Menashe
Best Foreign Language Films
In the Fade, The Insult, First They Killed My Father, Felicité, The Square
Best Documentaries
I Called Him Morgan, Last Men in Aleppo, Whose Streets, Step, Quest
Best Actors
Gary Oldman—Darkest Hour
Denzel Washington—Roman J. Israel, Esq.
Daniel Kaluuya—Get Out
Jake Gyllenhaal—Stronger
Josh O'Connor—God's Own Country
Best Actresses
Annette Bening—Film Stars Don't Die in Liverpool
Sally Hawkins—Maudie/The Shape of the Water
Diane Kruger—In the Fade
Charlize Theron—Atomic Blonde
Emma Stone—Battle of the Sexes
Best Supporting Actors
Jason Mitchell—Mudbound
Ethan Hawke—Maudie
Ian Hart—God's Own Country
Michael Shannon—The Shape of Water
Idris Elba—Molly's Game
Best Supporting Actresses
Tiffany Haddish—Girls Trip
Michelle Pfeiffer—Mother!
Laurie Metcalf—Lady Bird
Mary J. Blige—Mudbound
Tatiana Maslany—Stronger
Best Screenplays
The Shape of Water—Guillermo del Toro, Vanessa Taylor
Girls Trip—Kenya Barris, Tracy Oliver
Get Out—Jordan Peele
God's Own Country—Frances Lee
The Big Sick—Emily V. Gordon, Kumail Nanjiani
Best Cinematography
Mudbound—Rachel Morrison
Dunkirk—Hoyte Van Hoytema
The Shape of Water—Dan Lausten
First They Killed My Father—Anthony Dod Mantle
Darkest Hour—Bruno Delbonnel
Best Animation/CGI
Coco, Loving Vincent, Despicable Me 3
Other Great Films
Atomic Blonde, Baby Driver, The Big Sick, Dunkirk, Call Me by Your Name, Film Stars Don't Die in Liverpool, God's Own Country, "I, Tonya," The Lost City of Z, Lowriders, Maudie, Mudbound, The Post, The Shape of Water, Stronger, War for Planet of the Apes, Wind River
Worst Movies
Chips, Detroit, Downsizing, Mother, The Mummy, Suburbicon, Tyler Perry's Boo 2! A Madea Halloween.