Will-Grundy Medical Clinic hosting fundraiser Mar. 8
2/20/2017, 10:50 a.m.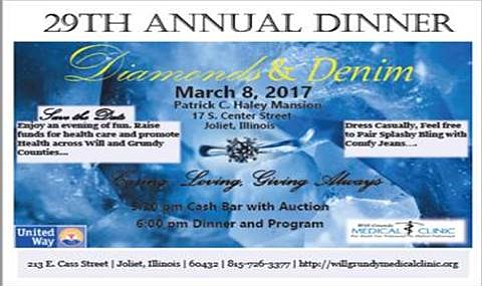 The Will-Grundy Medical Clinic will host it's 29th annual fundraiser dinner on March 8 at the Patrick C. Haley Mansion in Joliet, 17. S. Center St.
Theme for the night is "Diamonds & Denim" and attendees are encouraged to pair their favorite pair of blue jeans with their fanciest jewelry for the event which begins at 6 p.m.
The Clinic's annual event serves as a catalyst to gather those who support and empower free community-based health care for the uninsured and underinsured. Three decades of implementing a distinctive local mission include demonstrated leadership: the Clinic launched the successful AMA-Supported Diabetes Prevention Program and renewed Chronic Disease Care Coordination Program.
The Will-Grundy Medical Clinic is a not-for-profit 501(c)3 organization that provides free medical and dental care to adults who have no healthinsurance or medical care entitlements and meet prescribed incomeguidelines. Care is provided by physicians, dentists and other professionals who volunteer their time and expertise to the Clinic.
The Clinic is funded by the United Ways of Will and Grundy counties, our four partner hospitals, local businesses and individuals. We hold three fundraising events and conduct two fund drives each year.
Dental and medical personnel offer their services at no charge and the partner hospitals provide millions of dollars of contributed services in the form of surgical suites, diagnostic testing and lab work. Our Clinic is the only totally free clinic in the two-county area for those who have no insurance and limited financial resources.
More information is available by contacting Natalie at 815-726-3377, ext. 225.