Loaded Chicken Salad Sandwiches with Guacamole
7/18/2017, 11 a.m.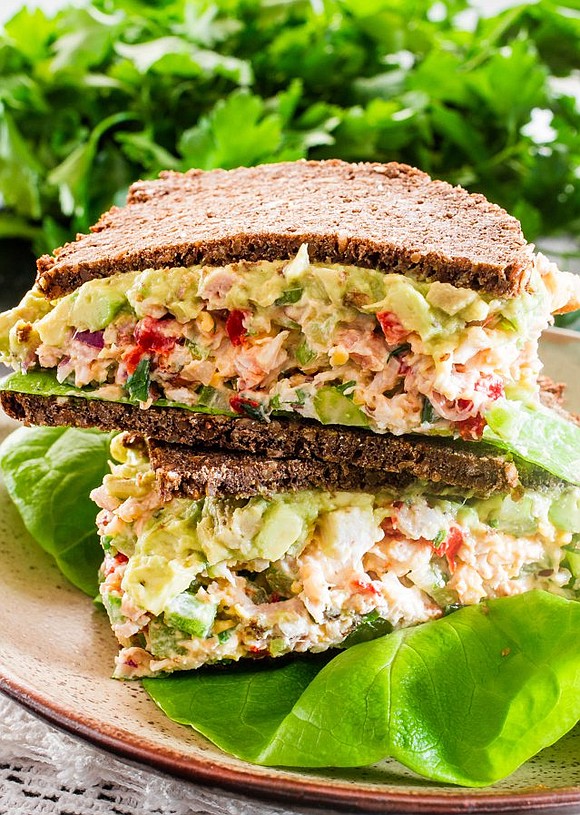 Servings: 4 / Total Time
20 mins
Ingredients
• 8 slices dark rye bread
• 2 cups cooked chicken shredded or cut small
• 1 roasted red pepper
• 3/4 cup cheddar cheese, shredded
• 1 stalk celery chopped
• 2 green onions chopped
• 1/2 green bell pepper chopped
• 1/2 cup pecans chopped
• 1/2 cup parsley chopped
• 1/4 cup red onion chopped small
• 3/4 cup Greek yogurt
• salt and pepper to taste
• 2 avocados mashed
• juice from one lime
• 8 leaves lettuce
DIRECTIONS:
In a medium size bowl mix together all the chicken salad ingredients: chicken, red pepper, cheddar cheese, celery, green onions, pecans, parsley, red onion, Greek yogurt, salt and pepper.

In another small bowl, roughly mash the avocados, add lime juice, season with salt and pepper and mix.

To assemble sandwiches, start with laying 2 lettuce leaves on 4 of the slices. Divide the chicken salad among the 4 sandwiches and load them up. Top with guacamole then the last slice of rye bread. Cut in half and enjoy. Sprinkle with more lime juice as needed.