H.S. Boy's Basketball: Joliet West and Joliet Central play to wild finish
Alex Ortiz | 3/8/2017, 11:57 p.m.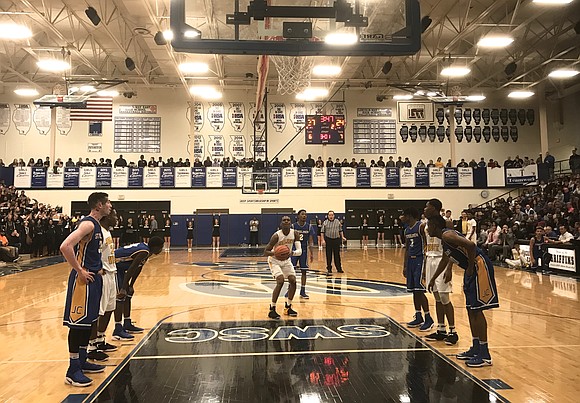 FRANKFORT - What a finish. With just seconds left on the clock, Joliet West's forward Trepan Bell leaped through the air to put back a missed shot into the basket. The score would make the 64-62 win official over crosstown rival Joliet Central in the sectional semifinal.
It was a fitting moment considering Bell had fought back with a hurt right ankle that kept him out for much of the game. He came back in despite not feeling 100 percent and helped his team fend off a staunch comeback by Joliet Central.
"Man there's just certain things you got to play through in certain situations," Bell said in reference to his injury. "I couldn't let something take me down earlier in the game like that."
While the Steelmen were never really out of it, it seemed after the first three quarters that the Tigers were in control with a 12-point lead at the start of the fourth quarter. But then Central roared back with a fury of baskets and tough defense to score 24 points and even took the lead very late in the game.
There was a bit of confusion on the penultimate play of the game when it appeared after Bell's basket, that Joliet Central inbounded the ball and time had run out. The refs took a few minutes to discuss and put back four seconds on the clock, only for the Steelmen to fail to even put up a shot.
"We've been in this situation a lot in close, big games like this the past two years," said Joliet West Head Coach Nick DiForti. "It showed tonight."
Joliet West will get a rematch against Bolingbrook in the sectional final on Friday, March 10 at 7 p.m. at Lincoln-Way East High School. The Tigers lost the first meeting at Bolingbrook 84-74 back on January 24.