Joliet Township High School student athletes win awards at Special Games 2017
3/22/2017, 10:19 p.m.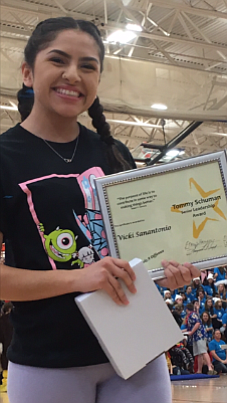 On Thursday, March 9, 2017, Joliet Township High School athletes participated in the 16th annual Special Games hosted by Lincoln-Way Central.
It was a successful day for JTHS with the relay team placing fourth, along with Joliet Central senior Vicki Sanantonio winning the Tommy Schuman Senior Leadership Award in recognition of her contributions as a peer trainer.
About 400 athletes with special needs participated from the following schools:
Bradley Bourbonnais, Bolingbrook, Andrew, Sandburg, Stagg, Homewood-Flossmoor, Joliet, Lockport, Lincoln-Way Central, Lincoln-Way East, and Lincoln-Way West.
In addition, each school strategically plans for the chance to win the coveted traveling Spirit Stick. The winning school also receives a banner to hang with pride in their school gym or field house. This year, JTHS won 2nd place for Spirit Stick.
The JTHS team chose Monsters Inc. as their theme this year with the quote "Our
Differences Bring Us Together," resulting in a colorful and inspiring Spirit Wall.
"The athletes practiced their events and competed with good sportsmanship. It was a very successful Special Games. Our scream catcher noisemakers, t-shirts and head gear helped us win the 2nd place Spirit Stick," said Patti Edwards, Joliet Central High School PE teacher. "It is truly a special event that promotes enthusiasm and camaraderie among all who participate in the event."