Wine of the Week: Celebrate the 45th Anniversary of Dry Creek Vineyards 2014 Cabernet and Merlot $26
Dwight Casmiere wine@thetimesweekly.com | 3/30/2017, 11 a.m.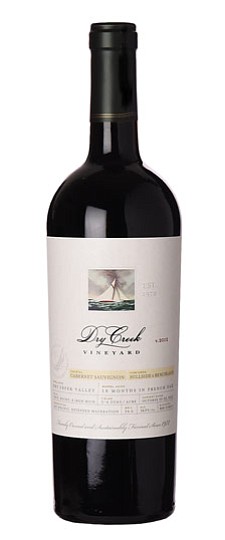 Dry Creek Valley on northern California's Sonoma Valley has a wine making history that goes all the way back to the days of the California Gold Rush California Gold Rush of 1849. By the late 1880s, the valley had nine wineries and 883 acres of vineyards. Prohibition ended the wine boom and the area became known as primarily a growing region for prunes and pears. Enter David Stare. With a degree from MIT and a background of working B and O railroad, Stare quickly realized that his passion was for wine. He made his way west, and with a degree from the famed winemaking program at UC Davis, he spent his weekends searching for the perfect place to plant grapes, specifically Sauvignon Blanc, like the storied vineyards of the Loire Valley, which he coveted.
The 2014 Cabernet Sauvignon ($26) and the 2014 Merlot (also $26) from Dry Creek Valley, are the winery's newest releases. They celebrate the 45th Anniversary of Dry Creek Vineyard. Expressive, yet nuanced, the wines illustrate the winery's commitment to Bordeaux-styled varietals. Produced in limited quantities, the wines have levels of flavors that combine ripe fruit flavors with an impeccable balance the reflects the complex soil of the regions and the exceptional grapes, with their low sugar levels and bright acidity which produces wines that are well-integrated and perfectly balanced with supple tannins and a long finish that lingers long in the mouth and in memory.
Dry Creek Valley 2014 Cabernet Sauvignon is an undiscovered gem. In an area primarily known for producing outstanding Zinfandels, this is a Cab that will rock your world. Grown in Dry Creek's unique terroir and perfect microclimate, the wine is b lend of 82% Cabernet, 8% Petit Verdot, 4% Cabernet Franc, 4% Malbec and 2% Merlot. The wine displays terrific aromas of dark cherries, black currant and blackberries with layers of dried flowers, thyme and hints of dark chocolate and cassis. Silky and much on the palate, it has a great texture and a great deal of innate charm. Intense and rich, its a wine that satisfies from the first sip, either alone or singing a beautiful wine aria alongside a great meal, preferably from the grill.
2014 Dry Creek Valley Merlot is a shining example of the winery's dedication to producing Bordeaux varietal wines in the classic style. The first vintage of Merlot was released by the winery in 1973 and has been receiving accolades and awards ever since. A blend of 78% Merlot, 15% Cabernet Sauvignon 4% Malbec, 2% Cabernet Franc and 1% Petit Verdot, the wine was aged 16 months in French, Hungarian and American oak to stunning results.. This luscious wine is dripping with flavors of ripe raspberries, black and red cherries and hints of toasty Brioche. Undertones of dark chocolate, crushed deep red flowers come dancing forward like the young rose bearers in the opera Der Rosenkavalier.
With spring afoot, and the start of the grilling season, don't hesitate to present these wines to your guests over a mouth-watering steak, brushed with fresh garlic and rosemary infused olive oil and served with a side of freshly picked Fiddle Head Ferns, which are just starting t o sprout now, or lightly grilled asparagus or Romaine spears. A salad of freshly picked Dandelion leaves and Nasturtium flowers with a smattering of fennel seeds and a light lemon and herb vinaigrette, will set it off. The wines are an incredible value and could easily stand in for those two or three times the price. For more information visit drycrfeekvineyard.com.