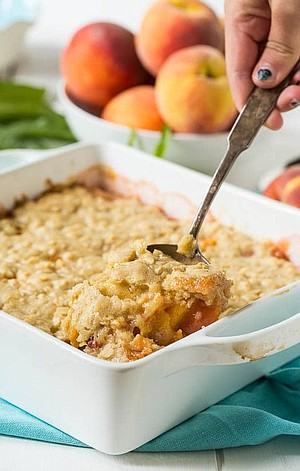 SERVINGS: 8/ Total Time: 1HR 15 MINS
Ingredients
Topping
• 1/2 cup granulated sugar
• 1/2 cup packed brown sugar
• 1/2 cup butter, softened
• 2 teaspoons vanilla extract
• 1 large egg
• 1 cup all-purpose flour
• 1 cup old-fashioned oats
• 1/2 teaspoon baking powder
• 1/2 teaspoon salt
Filling
• 6 cups sliced, peeled peaches
• 2 tablespoons sugar
• 1 tablespoon flour
• 1/2 tablespoon lemon juice
DIRECTIONS:
1 Preheat oven to 350 degrees.
2 Place granulated sugar, brown sugar, and butter in the mixing bowl of an electric mixer and beat on medium-speed until light and fluffy.
3 Add vanilla and egg and beat well.
4 In a medium bowl, combine flour, oats, baking powder, and salt. Add to sugar mixture beating on low-speed until blended. Cover and refrigerate 30 minutes.
5 Combine all ingredients for filling in a medium bowl.
6 Spray a 9-inch square baking pan with cooking spray and pour peach mixture into pan.
7 Drop spoonful's of topping over peaches to completely cover peaches. Bake for 30 to 35 minutes, or until light brown and bubbly.