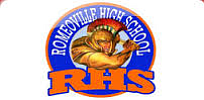 The Washington Post's annual "America's Most Challenging High Schools" rankings are based on what the well-respected media group terms "a simple ratio" of the number of Advanced Placement and Advanced International Certificate of Education tests taken by students divided by the number of graduating seniors.
The number of each school's students with modest economic backgrounds was also taken into consideration.
RHS, which was one of only 65 high schools in Illinois (out of roughly 650) to receive the designation, obtained high marks for its Advanced Placement efforts particularly given the school's low-income student totals. "The list was invented to recognize great schools like yours," Washington Post spokesperson Naseem Amini told RHS officials. "About 12 percent of U.S. high schools made the cut."
"Five years ago, Valley View embarked on a plan to challenge our students, educators and staff to achieve greater outcomes," said VVSD Board of Education President Steve Quigley. "This further reinforces that plan and confirms our efforts to continue to move forward based on the belief that our students, staff and community can and will improve year after year."
"The Romeoville High School Community is extremely proud and excited to receive this recognition," added RHS Principal Derek Kinder. "Being recognized along with other schools throughout the country is a direct reflection of the hard work that our students and staff commit to daily as they continue to embrace the challenges placed before them by working together to maximize their limitless potential."
The Post's "America's Most Challenging High Schools" project was created 30 years ago when reporters discovered a public school in a poor Hispanic neighborhood produced 26 percent of all the successful Mexican-American Advanced Placed calculus students in the country because, according to columnist Jay Matthews, they were "giving students more time and encouragement to learn."
"My focus since then has been to explore how this is done and identify those schools working hardest to challenge students from all backgrounds," Matthews said. "The list shows a sustained increase in the number of schools that qualify…even though the vast majority of U.S. schools still do not make the list."