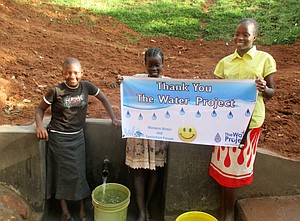 A group of Plainfield South High School students raised $5,535 for something they might never see in a country they may never visit.
PSHS seniors Alex Mayer, Unzila Manzoor, Citlalli Ruiz, Daniel Muncaster, Shannon Solomon, Olivia McGrath, Sarah Mullan, Alex Hurtado and Andres Ruiz hosted the "Water Challenge" last fall.
The goal was to raise money to protect water supplies in Africa where people walk miles every day to get fresh water.
The students recently learned that their donation went to build a well and to protect the spring that feeds the well for about 500 people in Simboyi, Kenya.
Organizers asked participants to drink only water for two weeks and donate the money they would have spent on soda or coffee to The Water Project. The Water Project is a nonprofit dedicated to providing and protecting clean water to sub-Saharan countries in Africa.
Visit https://thewaterproject.org/community/profile/pshss-campaign-for-water to see photos and learn more about the PSHS funded well project.