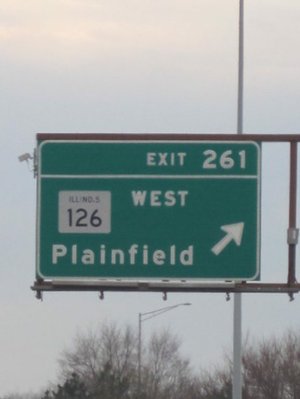 PLAINFIELD - For nearly a decade, the Village of Plainfield has been in talks about building interchange improvements at I-55 and Route 126 with the nearby communities of Romeoville and Bolingbrook.
While the project remains in Phase I with no construction date in sight, the Plainfield Village Board Monday learned that a proposed amendment to the intergovernmental agreement would require the village to fork over an additional $212,995 toward the study.
Several years ago, Allen Persons, public works director for the Village of Plainfield, said Bolingbrook completed an access justification study for the expansion of the I-55/Route 126 interchange and Romeoville finished another study for a new interchange at I-55 and Lockport Street. Right now, drivers can only travel northbound on I-55 from Route 126. They cannot go southbound on the interstate from Route 126.
When Plainfield entered into an intergovernmental agreement with Romeoville and Bolingbrook in 2009 in an effort to advance the Phase I study, the total cost at that time was around $2.6 million and a federal grant of $1.469 million was allocated to assist with the expenses.
But Persons said in July 2011, Plainfield entered into another agreement with Bolingbrook and Romeoville where the village agreed to fund 30 percent of the cost as Plainfield wanted to be more actively involved in the decision-making process regarding the design of proposed improvements at both locations.
"Recently, we were notified that an extensive amount of environmental studies and reports had been completed over the past seven years, additional funding will be required to complete the Phase I engineering study," he said. "The updated cost is estimated at $3.26 million."
For the most part, Persons said Plainfield, Romeoville and Bolingbrook would all need to provide additional funding to complete this Phase I study, with Plainfield's portion at $212,995.
Recognizing this is a project driven by the federal government, Plainfield village trustee Brian Wojowski said there really isn't a definitive timeline as to when the interchange improvements will actually be made.
But Persons views the Phase I study as being important to Plainfield residents who are concerned about traffic in the area.
"This at least gives us a seat at the table," said Persons.