Summer job outlook improving for area teens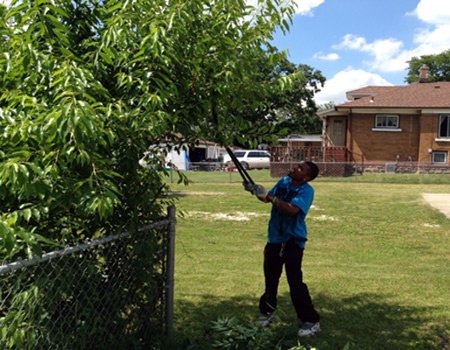 During previous summers, the Harvey Brooks Foundation in Joliet has employed as many as 20 teens to work in its summer camp and other community outreach programs.
First established in 2001, its Youth Bridges program for teens paid kids for up to 20 hours of work while also providing training in skills like building and maintenance, gardening, and lawn care in addition to helping area seniors and the disabled.
The program did more than just provide some spending money and job training said executive director Tempie Bates. The program also provided lessons in leadership as well as character and team building.
"It's so vital to help our youth these days to stay engaged academically."
Bates said she was waiting to hear about some privately funded grants the organization had applied for that could restore part of the paid component of the program although students can still serve as volunteers for the summer.
But with the ongoing budget standoff, the program won't be receiving any funds from the state to pay those students.
"Support for community services projects through the state budget is not going through," she said.
Reverend Adrian Heath, Executive Director of Redeemed Connection Ministries is helping fill the gap left by the lack of state funding with his summer job and training program through Redeemed Connection Ministries. His empowerment and training program is an 8-week course that touches on topics of career planning, safety and resume and interviewing skills while also providing job training for work in lawn services. The program has formed a partnership with the City of Joliet and the JJC horticultural program to connect graduates with jobs upon completion.
This program "inspires young people who have trouble finding and keeping a job" to becoming entrepreneurs "with skill sets that will last them a lifetime."
"The program also takes young people from as early as junior year of high school up to 24 years old," Heath said. On Saturday May 13 the ministry graduated 5 students from the program in the ministries 2nd graduation ceremony.
For teens who may be looking for work on the open market they may have an easier time of it than in years past said Pat Fera, Executive Director of Workforce Investment Board of Will County.
She notes Will County's plummeting unemployment rate, currently a full percentage point below the state's at 4.6% and a full point better than the previous month.
She point to signs of an improving jobs landscape including more places advertising for summer jobs including the City of Joliet and Forest Preserve District of Will County among them.
"We hadn't seen that in a while," said Fera who said that at the height of the recession unemployment was over 12%, the equivalent of about 40,000 people out of work.
While the investment board doesn't offer a summer jobs program it does offer 'Connect to Your Future' a year-round job-training program for young people who are 17-24 years old.
The program assists participants with getting their GEDs, diplomas and also works with them on polishing resumes, and nabbing internships.
Ken Mihelich, Director of Administrative services for Joliet said that the city will hire about 17 people for its summer jobs program this year. Program participants are hired to work in public works, grounds crews, and in the water treatment operations doing everything from working as lab interns to conducting tree inventories. Participants have to be at least 18 years old so the program attracts college-age students for the most part.
"It's a nice summer job," he said.