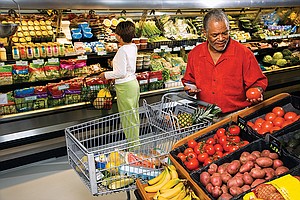 November is Diabetes Awareness Month, and Blue Cross and Blue Shield of Illinois is partnering with Jewel-Osco to offer in-person Diabetes Management Classes for Medicare Advantage and Medicaid members.
The Living365SM diabetes management classes are being offered, at no charge, to BCBSIL members in communities throughout Chicagoland including Thursday, November 16 at the Jewel-Osco at 1403 W. Jefferson in Joliet.
"Understanding and controlling diabetes is not easy. Diabetes is one of the most common chronic conditions in the members we serve," said Jay Gandhi, divisional vice president of enterprise pharmacy at Blue Cross and Blue Shield of Illinois.
"These diabetes education classes are one of the many opportunities we offer our members to help them manage their care and live healthier lives."
The Diabetes education classes will bring members on a 'Healthy Eating' grocery store tour led by a registered dietitian. During the tour, members will learn about counting carbohydrates, types of fat, reading food labels, better food alternatives and much more. Additionally, attendees will be able to work with an in-store pharmacist to learn more about diabetes and related treatments, monitoring blood glucose, and incorporating physical activity into their lifestyle.
All attendees will be able to ask questions and will receive educational materials.
Medicare Advantage or Medicaid Members must register in advance and bring their BCBSIL card to the class. Classes are limited to 25 members per class. Each registered BCBSIL member may bring a guest.
For more information on the class and to register, call 877-728-6655 Monday-Friday from 9am – 6:30pm CT or visit www.Jewelosco.comLiving365
To join learn more health and wellness tips and hear first person accounts of Blue Cross members living with diabetes join the conversation at https://connect.bcbsil.com/.