Amazon donates backpacks of winter essentials to United Way
11/15/2017, 11:46 a.m.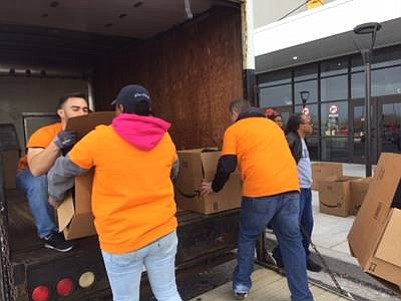 Ahead of harsh winter weather and the holidays, local Amazon associates made a very special delivery. Last week, local Amazon employees donated 1,000 backpacks full of winter essentials to United Way of Will County to help people facing homelessness.
Each backpack is filled with a winter hat, winter gloves, winter wool socks,
all-purpose first aid kit, toiletries kit, PURRELL hand and face sanitizing wipes
and healthy snack bars.
United Way of Will County distributed the backpacks to local homeless and emergency shelters and organizations supporting people in transition. Amazon hopes that with these winter essential backpacks, they can help serve a need right now. Amazon backpack donations like this one are taking place across the Midwest as the holiday season gets closer.
The donation is part of Amazon's ongoing commitment to give back to the communities where its associates work and live. Amazon currently employs more than 3,500 full-time associates at its fulfillment operations in Northern Illinois and will employ more than 8,000 associates in Illinois by the end of 2018.