Lewis University admissions letters delivered by drone
11/15/2017, 12:16 p.m.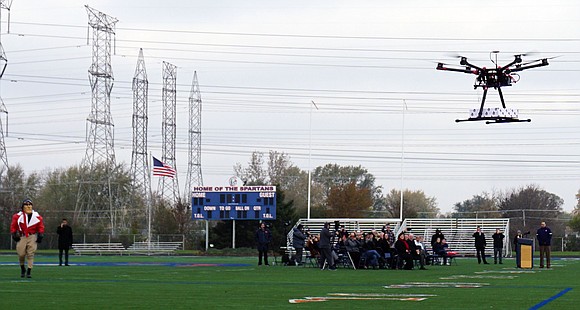 Romeoville - Lewis University kicked off the College Admission season with a special delivery to eight Romeoville High School students. A Lewis University Unmanned Aircraft Systems program drone delivered a college admissions acceptance letter November 13 to the students at their high school.
"Being the first delivery of this kind in the nation demonstrates how Lewis University is a leader in aviation education from the first moments of your Lewis University experience," Dr. David Livingston, president of Lewis University, said.
The students receiving the official acceptance letters by drone delivery were Yamilette Arias, Abbey Brand, Ryan Dabrowski, Abigail Diaz, Daniel Gal, Jeremy Kinsley, Ashley Pitt and Malik Tifah.
"We are excited to be taking part in this unique way of notifying Romeoville High School students of their acceptance to Lewis University," Derek Kinder, principal of Romeoville high School, said. "At all grade levels in Valley View School District, we emphasize college and career readiness. This event reinforces to all of our students the possibilities available to them after high school graduation."
"We're so proud that the first drone delivery of this type happened right here in Romeoville. Innovation leads to progress and Lewis University is a prime example of this," Mayor John Noak said. "What a great experience for these students. They were not only accepted to a leading college, but they were part of a major milestone in the advancement of drones."