Joliet West senior play Illinois High School Senior Showcase
11/29/2017, 10:07 a.m.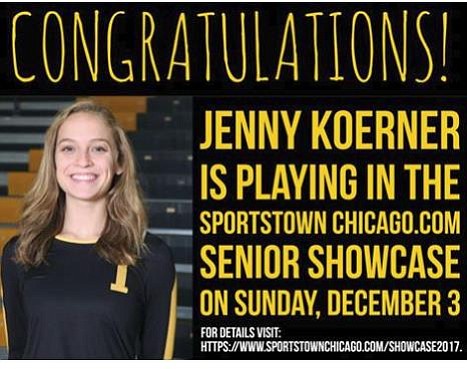 Joliet West High School senior Jenny Koerner will participate in the SportsTownChicago.com 5th Annual Illinois High School Girls Volleyball Senior Showcase on Sunday, December 3, 2017 starting at 3:00pm at College of DuPage on 425 Fawell Blvd. in Glen Ellyn, Illinois.
Featuring 20 extraordinary senior players in the state of Illinois that are currently not committed to a college the showcase serves as an opportunity for the players to display their skills in front of coaches and scouts alike.
Additionally, the game will be available through online streaming via SportsTownChicago.com.

SportsTownChicago.com selected the participating players through nominations from all around the state of Illinois based on their skill, availability, and region.
Admission is $10 per person, and the proceeds will benefit the American Cancer Society. For more information, please visit https://www.sportstownchicago.com/showcase2017
JTHS congratulations Koerner on this wonderful opportunity to showcase her athletic talents. Go, Tigers!