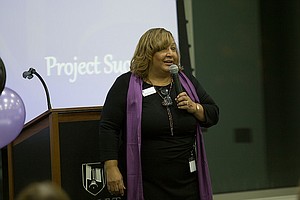 "It was the first time I'd ever seen a black man who was a doctor," said Gerald Holmes, a 2004 JJC graduate who participated in Project Success. "A black man with dreads! He was a doctor! And I thought to myself—for the first time—I can do that, too. I can be a doctor."
The black doctor with dreads was Dr. David Stovall, an author, educator and community policy visionary, who was visiting JJC to speak to Project Success students. He was one of many minority thought leaders who came to campus to inspire the students in Project Success.
Gerald went on to earn his bachelor's degree at Chicago State University and his M.Ed at Concordia. He is now teaching and coaching at Proviso Township High School, while he pursues his doctorate degree at Lewis University. He was one of many former students who attended the gala at JJC on November 15, celebrating 15 years of student achievement.
"Project Success began as an opportunity to increase graduation rates for minority students," said Mildred Holmes, program coordinator and chair of JJC's Counseling department. "It grew into a comprehensive mentoring program and support network. We became a family—helping each other, encouraging each other, sharing our resources—even long after graduation."
Graduation rates for minority students have historically been low due to many factors. Project Success gave minority students a framework to help them adjust to college life, from academic challenges, to social adjustments, to financial issues.
For first generation college students like Gerald, the program made the difference between success and failure. "Project Success made it possible for me to graduate, to pursue my dreams, to support my family," he said, sitting with his mother, wife and infant daughter.
Program mentors meet with students regularly to coach them and encourage them. "Mentoring works," says Holmes. "The graduation rate in Project Success is 2 or 3 times the overall JJC rate for minority students."
Holmes is soon retiring after 30 years at JJC, but Project Success will be in good hands with the new coordinator, JJC counselor Teresa Lozano.
"Project Success reaches students who might otherwise fall through the cracks," said Holmes. "It's been very successful for the past 15 years, and I know it will continue to thrive."
In addition to mentoring, high school students accepted into Project Success also receive: early admission to JJC; free tuition and book for COUN 101 class; assistance with completing FAFSA (Federal financial aid form); referral to other JJC programs that provide tutoring and support; early registration for summer and fall classes; and educational trips and leadership development opportunities. For more information on applying, visit https://www.JJC.com/Counseling.
Kay Bolden is an author, Times Weekly blogger, and travel writer. She'd love to hear your thoughts on sustainable living, and how we can all live together on the only planet we've got. Follow her on Twitter @KayBolden or drop her a line at Kay@KayBolden.com.