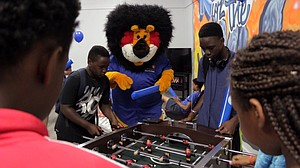 Twenty BMO Harris bank employees recently surprised George Buck at the Boys and Girls Club in Joliet by converting the club's old weight room into a teen room filled with games, furniture, and a mural from Chicago graffiti artist Stukone.
The new teen room includes a mural by Chicago-based painter Stukone that says "Reach For The Sky." Originally from Rockford, Stukone has been a force in the graffiti scene all across the United States for more than 15 years. He specializes in small to large scale murals, inked drawings, illustrations, and typography.
The George Werden Buck Boys and Girls Club is dedicated to providing the facilities, services, and support for the youth of Joliet. Through the use of varied programs, informal guidance, and a dedicated staff, the Club is able to offer educational, vocational, and recreational opportunities to all members regardless of nationality, religion, race, creed, or sex.