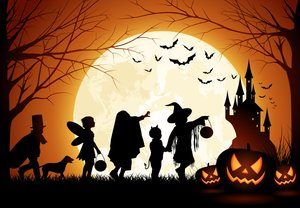 thetimesweekly.com
A mummy king, malevolent fairies and a Celtic spirit of Halloween, seen just once a
year, come to life in the Halloween drama, "Spirit of All Hallows Eve" - now
celebrating its 12th run. Billie Limacher Bicentennial Park Theatre (201 West
Jefferson Street, Joliet) in cooperation with the Bard's Guild Theatre Association
is proud to present this original Halloween tale on Saturday, October 14 (shows 3:00 p.m. and 7:00 p.m.) and Sunday, October 15 (shows 1:00 p.m. and 4:00 p.m.). Show admission is $5. Groups of ten or more are just $4. Tickets are available at the
door and online (www.bicentennialpark.org).
The indoor drama, "The Spirit of All Hallows Eve," returns to the Park's inside
auditorium where it debuted in 2001 by the Bards' Guild Theatre Association. The
druidic narrators take audiences back in time to ancient Egypt, New England colonial times and to the mystic isles of England in times that have long since passed. The story explores the word-of-mouth legends handed down thousands of years and puts them to question. History, adventure and humor provide a unique treat for Halloween enthusiasts both locally and abroad. The show is suitable for families. There are only a few moderately scary moments, so it is recommended for ages five and older.
"I think this show appeals to Halloween fanatics because it takes the holiday down a
new avenue, expressing the festivities in a way that's never been done before," says
Eric Moniger, Technical Director. "We really wanted to make this show fun for
everyone to watch," Moniger continues. "It was really exciting for us to have things
like zombies, witch hunters, and spectral encounters with elaborate stagecraft, not
only for the kids, but for all the Halloween, fantasy, and adult fans in our
audience as well."
"The cast is working incredibly tirelessly and I am very proud of them," says Paul
Darin, Director. Paul, a former cast member in previous years returns this year to
direct. "They come in for rehearsals after working or going to school a full day,
day after day, and they bring the kind of energy on stage that would make you swear
they did this full time. They do this for the sheer love of theater and the joy of
being able to tell a story on stage through gestures, dance, and (of course)
acting."
Eric appears in the show as one of the druid narrators, as well as overseeing the
complex technical mechanics for the cast of 2017 (cast names in alphabetical order):
Annalis Whalen, Cheryl Foster, Danny Carroll, Elana Carmine, Faye Zolp, Fred
Kaanapu, Gabe Brumbaugh, Isabella Martinez, Jacqui Andrea Strong, Jamie Gossen,
Jenna Maue, Jose Lopez, Leo Brumbaugh, Maggie Garbelman, Marisa Lopez, Miles Lane, Oscar Martinez, Ryan Divine, Tamara Martinez, Tanner Lee, Taylor White, Teddy Lucas and Zane Carmine.
The doors to the decorated lobby "forest" open one hour before showtime. Come early and enjoy the Wickedly Sweet Shop, Spirit Saloon, Spooky Boo-tique and savory concessions. For ticket and more information, contact the office: 815-724-3761, bipark@jolietcity.org