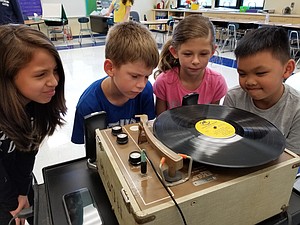 Tibbott Elementary School celebrated their 50th Anniversary this week. As part of the festivities, students learned about what school looked like for students their age in 1967.
For students and teachers 50 years ago, the audio/visual technology to enhance student learning was, to say the least, limited. But there was an ancient device known as the record player used in classrooms all across the country.
Tibbott Principal Mrs. Ana Wilson showed her students how the record player worked and what a vinyl 33 1/3 RPM album looked like. As the record began to play, it wasn't quite clear if the students were chuckling at the record player, or the song being played.