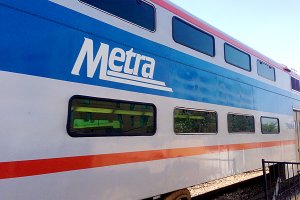 Forty years ago, when the current funding plan for Metra was first established, Illinois' economy thrived on manufacturing jobs and sales tax derived from sales at brick and mortar stores.
The revenue was enough to keep train lines running and provided enough for capital investments in cars and locomotives.
Today, that model has been upended by an economy dominated by the service industry and an increasing public preference for purchasing goods from online retailers.
The result has been a gradual deterioration of Metra's funding base, one that its chairman Norman Carlson said will result in "difficult choices ahead" for the agency.
"Metra, Pace and the CTA are the threads that hold the economic engine of Northeast Illinois together," Carlson told the Will County Board in October emphasizing a need to invest in infrastructure as the agency maintains fleets of aging locomotives some and cars some of which are 65 years old. He noted that the investment in the agency and its services benefit riders and non-riders alike as mass transit lightens the number of commuters on surface streets and highways.
"We need to protect, maintain, grow and preserve these vital public assets," he said.
Other culprits in the agency's eroding funds include non-existent financial planning in Springfield—the state hasn't had a capital funding bill since 2009—and in the latest budget passed this year the state will also take a bigger bite from sales taxes in the form of a 2% collection fee to the tune of $9 million.
The agency is proposing a 2018 operating budget of $797.2 million that will include cost saving measures that include fare increases and service cuts to close a projected $45 million budget hole "caused by rising expenses, a reduction in state aid and disappointing sales tax revenues." The budget includes $196.8 million for capital investments which Carlson said was about a sixth of the amount needed to maintain the system. That number is closer to $1.2 billion he said.
Carlson warned that the current model is unsustainable and eroding sales taxes to online sales will have to be dealt with at the state and federal level to ensure revenue. He said that the current budget also rests on the assumption that a 10% cut in sales tax revenue will be restored by the state in July 2018.
The financial uncertainty will mean a fare hike of 25cents with 10-ride tickets rising from $4.25 to $7.75 and monthly passes increasing to $12.50 (from $9). Round trip weekend passes will go from $8 to $10.
A line from Orland Park to Manhattan with low ridership will be cut and late night lines on the Rock Island that average around 2 people per trip will also be cut to save money.
Carlson said that there is some good news with a Romeoville Metra station set to be completed in 2018 and upgrades at the Lockport station including new flooring and HVAC also set for 2018.