NBA player excites audience at parent, youth forum on prevention
Will County Substance Abuse Coalition teaches the importance of being drug and alcohol free
Megann Horstead, reporter | 9/13/2017, 9 a.m. | Updated on 9/15/2017, 1:25 p.m.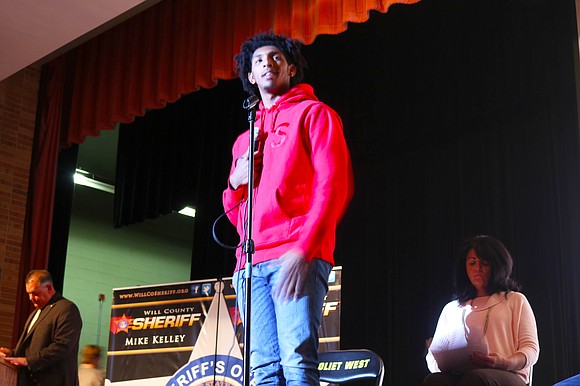 Provide a venue where people can sit in on a panel featuring current and former athletes, conduct raffle drawings, offer a plethora of tips and words of encouragement, and have the fortune of holding the program right after school ends and chances are people will show up by the dozens.
For the newly formed Will County Substance Abuse Prevention Coalition, it certainly proved to be true at the group's parent and youth forum, held recently at Joliet West High School.
The new coalition, which is comprised of representatives from Will County, community groups for youth and adults, health, business, Sheriff and Police organizations throughout Will County hosted the recent event to educate families on the importance of being drug and alcohol free. Like other coalitions, the group intends to centralize efforts to keep the community and youth safe from drugs and alcohol.

Cherry Powell, coordinator of the coalition and the mother of Rodger Powell Jr., one of the panelist and a member of the NBA mother's group really helped the coalition make this first event a big success, said Jayme Casimere, coalition member and chair of the events committee.
The panel moderated by coalition member Will County Sheriff Mike Kelley brought together an all-star lineup of speakers and included Roger Powell Jr., associate head men's coach for Vanderbilt University; Tom Thayer, formerly of the Chicago Bears; Jolinda Wade, pastor of New Creation Binding & Losing Ministries Church and mother of Dwayne Wade; Dianna Feeney, director of clinical services for Treatment Alternatives for Safe Communities; James Glasgow, Will County State's Attorney; Doug Collins, television analyst and former head coach for the Chicago Bulls and Washington Wizards; Christena Hamilton, assistant women's basketball coach for Bradley University; and Cameron Payne, of the Chicago Bulls.
Thayer took to the stage telling them he wants them to be proud of where they come from.
"We are the city of Champions because we put a lot of effort into everything that we're able to accomplish or asked to do," he said.
Thayer, who is a Joliet native and a graduate of Joliet Catholic High School, serves as a member of 1985 Super Bowl Champion-winning Chicago Bears. He wants to see the people of his hometown thrive and remain strong.
Thayer acknowledged the pressures that student-athletes face in school and said it's not easy.
"I went to a college [where] the academics were hard and sports were harder,"
Thayer said. "I played for a head football coach in Mike Ditka [who] he pushed us to our limits each and everyday, but I loved every second of it. I loved the support it gave my family, and I love the support my family gave me."
Collins said he is glad to share some of his feelings with the crowd in hopes of inspiring them to live "amazing lives."
"In moments like this, the first thing I think about is I hope you feel like as young people, you're not being lectured," he said. "Because young people get tired of being lectured to."