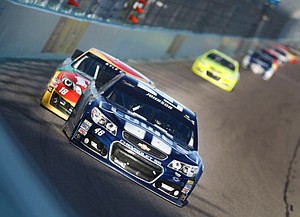 Joliet - In recognition of Dale Earnhardt Jr's final season of full-time racing, Chicagoland Speedway has partnered with PAWS Chicago to pay tribute to his remarkable achievements both on and off the track. Taking Earnhardt's deep love for his dogs into consideration, a donation drive will be held in his honor during the NASCAR Cup Series weekend Sept. 14-17.
All supplies collected for the Chicago-based animal shelter will be donated in the
name of the acclaimed driver to support their efforts toward ending the
overpopulation and euthanasia of homeless pets. In addition to the physical donation generated by NASCAR's loyal fan base, Chicagoland Speedway will make a monetary contribution in Earnhardt's name to commend his illustrious career.
In recent news, Hurricanes Harvey and Irma have dumped an unprecedented amount of rain in Texas and Florida, resulting in flooding and displacing thousands of people and animals. With this level of destruction and homelessness, animals are in need of emergency sheltering. To assist in the aftermath of these tragedies, PAWS Chicago has mobilized an ongoing rescue effort to evacuate animals from the impacted areas.
The pets rescued by PAWS Chicago were given up by their owners or had already been in local shelters before the hurricanes hit, freeing space to assist animals
displaced by the devastating floods. More and more pets keep coming in every day.
Chicagoland Speedway is enlisting the help of Dale Earnhardt Jr.'s passionate fan
base in hopes of generating significant supplies for the many animals PAWS Chicago
rescues each year including those saved during national disasters and tragedies like
parts of our nation are currently facing.
To ensure prompt use and allow for quality assurance, Chicagoland Speedway and PAWS Chicago ask that all donations be new, unused and unopened.
The complete 2017 NASCAR schedule at Chicagoland Speedway is as follows:
The Monster Energy NASCAR Cup Series Weekend
Thursday, Sept. 14 ARCA Racing Series SCOTT® 150
Friday, Sept. 15 NASCAR Camping World Truck Series The House 225
Saturday, Sept. 16 NASCAR XFINITY Series The House 300
Sunday, Sept. 17 Monster Energy NASCAR Cup Series Tales of the Turtles 400
For the most current information about Chicagoland Speedway, follow us on
Facebookhttps://www.facebook.com/ChicagolandSpeedway along with
Twitterhttp://www.twitter.com/chicagolndspdwy and
Instagramhttp://www.instagram.com/chicagolndspdwy @chicagolndspdwy.