National & Peer Rankings put USF up front
9/19/2017, 1:16 p.m.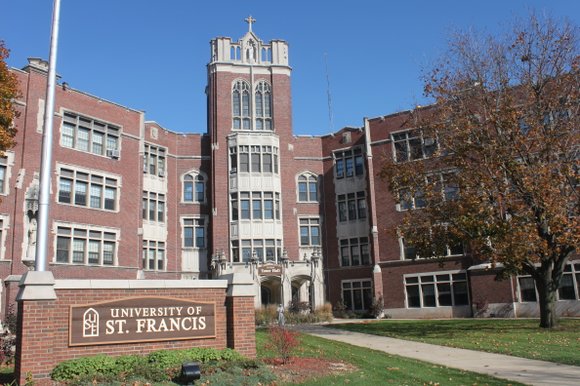 Joliet - Several recently released college rankings have placed the University of St. Francis (USF) at the top of their lists or among major research institutions in the state.
"It's wonderful to earn even one national award, and fantastic to be named by your peers as a top university, but this year has just been amazing for the University of St. Francis," Vice President of Admissions and Enrollment Eric Wignall said.
For the 11th consecutive year, USF made The Princeton Review's "2018 Best Colleges: Region by Region" list. The list reviews 658 colleges in five regional zones across the nation that they consider academically outstanding. USF is among only 158 regional peers to make the list.
USF was also thrilled to find itself among some of the leading universities and colleges in Illinois when it appeared on College Consesus' "Best Colleges in Illinois 2017-18" listing. USF placed eighth of the 10 colleges listed and was the only school in Will County present. The top two spots went to the University of Chicago and Northwestern University respectively.
Schools.com also ranked the University of St. Francis as a top private institution on its "Best 4-Year Colleges in Illinois" list. USF appeared eighth among several public universities from Illinois that appeared on the list as well.
"The USF community is honored to be listed among some of the most elite universities in Illinois by College Consensus. Our ranking in their Best Colleges in Illinois 2017-18 listing means a lot. USF is in their top 10, right alongside schools like the University of Chicago and Northwestern," Wignall said.
The Leach College of Nursing was ranked number two in the nation by Bestcolleges.com in its 2017-18 "Best Online Master's in Nursing Administration" guide. The site weighs criteria such as retention and graduation rates, affordability and quality of online enrollment in its listing.
Wignall is hopeful that these rankings will serve as a testament to the quality education students receive at USF. To schedule a personal campus visit to the University of St. Francis, please visit stfrancis.edu/visit.
For a complete rundown of all of the Illinois college rankings visit http://www.schools.com/online-colleges/illinois