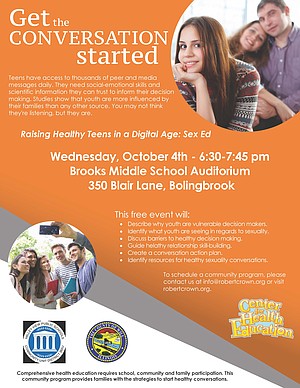 The Will County Health Department does indeed have their educators teaching the Teen Pregnancy Prevention Program in the Valley View School District. But as well as it has been received, what is the next logical step to take?
Health Department Community Health Educator Kathleen Harkins says that would be increased involvement of parents in their teens' lives. And two special events in October are designed to do exactly that. It's a very common theme that cannot be talked about enough: teen issues in today's world of digital communication.
"In the actual program at the Bolingbrook high school and middle schools, we are only there for 13 lessons," Harkins explained. "We can give the teens good information about preventing pregnancies, avoiding STDs, and developing healthier relationship skills. But parents still have the biggest impact. They are with them much more often. If we give the parents better information and tools for communication, the impact can be even greater."
The program being presented in October is from the Robert Crown Center for Health Education. It's called "Raising Healthy Teens in a Digital Age: Sex Ed." The program will be presented in the Brooks Middle School Auditorium, 6:30 to 7:45 PM on Wednesday October 4th, and in Bolingbrook High School's Roger and Pat Claar Auditorium, 6:30 to 7:45 PM on Thursday October 12th.
The topic of "sexting" in today's social media world has become very scary for parents. This program will allow parents to create conversation with their teens about this topic, as well as create an "action plan" for solid conversation. Parents will also learn to identify resources for healthy conversations about sexuality.
Valley View parent Maria Raices, who participates in the disrict's Teen Pregnancy Prevention Community Advisory Group, says it's a great idea to give parents an opportunity to discuss issues about sex in the modern social media era in a forum where they are encouraged to open up. "I'm really excited the Robert Crown Center is putting this together," said Raices. "There is still somewhat of a stigma when it comes to parents talking about this. A reaction of 'oh no, not that,' or a belief that 'this will never happen to my kid.' But since music and social media are so casual about sex these days, parents should be given the chance to discuss this in just as casual of a setting."
Harkins agreed that giving parents the chance to counter what is happening in their kids' everyday worlds is very important. "Good parent-teen communication and overall closeness of teens to their parents is known as a 'super protector.' If parents and teens have these two things, teens are less likely to engage in sex at an early age, and are less likely to engage in other risky behaviors. This educational program talks about why teens are vulnerable decision makers, and how they are bombarded daily with media and peer pressure messages about sex and other risky behaviors. Parents and adults need to counteract these potentially misleading messages."
The Will County Health Department's Teen Pregnancy Prevention Program in now in its second year in the Valley View District, after Program Manager Cindy Jackson was able to obtain a grant from the Office of Adolescent Health and the Illinois Department of Human Services.

The program was taught during the 2016-17 school year by Harkins to Humphrey Middle School 8th graders, and by fellow Health Department educators Kaitlyn Cronin to Bolingbrook High School 9th graders, and Shree Woods to Phoenix Experience Alternative School.
During this school year, the program is being expanded to Brooks and Jane Addams Middle Schools. During the 2018-2019 school year, the program will be taught at Romeoville High School by health teachers.
For additional information on these upcoming programs, visit http://www.willcountyhealth.org/Articles/valley-view-school-dist-will-co-health-dept-hosting-parent-ed-sessions-on-talking-to-teens-about-sex-in-modern-digital-age-193329 or contact Kathleen Harkins at the Will County Health Department at 815-727-5991.